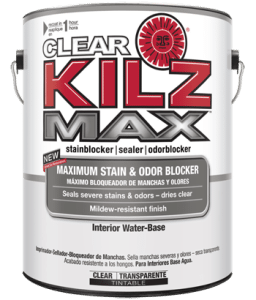 KILZ MAX Clear is a clear sealer that blocks severe stains and odors. This is an ideal sealer for interior surfaces under reconstruction, including subfloors, drywall, rafters and wall cavities.
Have you tried it yet? Let us know by filling out the form below!
Kilz Max Making Life Easier
★★★★★
"
I refinish/repurpose vintage furniture in my store. The pieces I find come from all walks of life so they carry stains & odors that can be a nightmare to cover. Kilz Max not only saves me time and money but my sanity too. Kilz Max has excellent coverage and eliminates the odors. I ALWAYS have Kilz in my workshop! \r\nThank you for an outstanding product!
"