With the winter weather upon us and the use of ladders growing by the day take a look at Ladder Limb!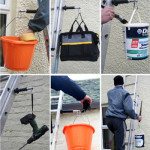 But by no means is it only for exterior work….
I have used mine recently whist working on a high stair well. The uses are endless, time saving is massive, and the safety implications are fantastic.
This little gadget will be common place for all tradespeople if you've got a ladder then you need a Ladder Limb.
By keeping the area that you stand on whilst up the ladder free it makes for safer working.
With a 10kg Weight limit this is more than enough.
The stainless steel karabina is very strong and able to swivel & most of the aluminium metal parts are covered in a strong soft grip black Pu with the handle part having an additional grip feature allowing a stronger & safer hold when your hands are wet.
It is a ladder accessory that enables the tradesperson to release one of their hands that would normally be holding items. Safely holding items from paint cans, tools or even buckets, the Karabina safely clips onto the item. Thus the name Ladder Limb……
Your third hand…….
A future proof detail allows for new features to be incorporated with out the huge cost of re tooling.
I can remember my Dad always saying "it'll have to wait Son I only have one pair of hands" well I rest my case. Ladder Limb gives you the third hand … Well sort of. Push securely & firmly into the rung of a ladder and away you go!!
I really like it and its so simple to use….
The the best ideas are the simple ones.
Any tool that makes working at height safer gets a big thumbs up from me.
 Benefits
 Swivels
Safer when working on a ladder
More efficient
Stainless steel and Aluminum parts
Lightweight
 Features
Karabina safety clip
Soft grip handle
Black pu type body
Max 10KG load
Future proof allows for new ideas to be added
Used & Reviewed by
Multi award winning decorator
Grand Winner Dulux Select Decorator of the year 2011
Follow Wayne on Twitter-@decorum28 and @ToolTalk1