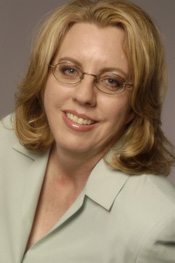 The president of Advisors On Target, Linnea Blair provides business coaching and consulting to business owners and executives, who are ready to take action to become effective leaders and run a more profitable and professional business. Her areas of experience include Strategic Planning, Business Plans, Financial Management, Marketing Strategy and Leadership.
Linnea developed the On Target Program for Painting Contractors in 2002 and since then has worked one on one with over 85 Residential and Small Commercial Painting Contractors to help them develop more successful painting businesses.
In addition to individual business coaching and consulting, Linnea provides monthly teleclasses or webinars on a variety of business topics to the public as well as her own clients. She also provides workshops at On Target conferences as well as speaking at other events including Contractor College Webinars, workshops at PACE, PDCA Expo, the PDCA Residential Forum's Advanced Shop Talk, Painting and Decorating Contractors of California (PDCC), the Lincoln State Council PDCA, the PDCA Commercial Forum and American Painting Contractor's Training Day.
Prior to launching Advisors On Target, Linnea coordinated business consulting services at Peterson & Co, LLP (now Squar Milner Peterson) in her role as Business Consulting Manager. Before joining Peterson & Co. in 1995, Linnea worked in the business sector as a manager in retail and service industries, as well as a serving as a field consultant for franchisees of a national corporation.
Linnea is a member of San Diego Business Resources – a business to business resource group, the San Diego Professional Coaches Alliance, and BNI. Committed to making a difference in the world, Linnea has been active in charitable work locally as a Red Cross volunteer, and internationally as a work team volunteer in Mexico and South Africa.
Committed to helping painting contractors to grow their businesses, Advisors On Target has been a PDCA National Associate Member from 2003-2011. Linnea is also a Partner Supporter of the PDCA Residential Forum and an associate member of the Painting and Decorating Contractors of California. She is excited to be involved with Blogging Painters in supporting this industry!