How many Social Media accounts have you signed up for in the past few years?
How many do you still use? Have you decided that the whole Social Media thing is just not for you, threw up your hands and said, "fuggetaboutit"? Have you said, " I have never received a lead from Facebook or Twitter, so why bother?
Bad idea! Even if you don't participate on Social Media, it doesn't mean your customers don't.
Your stuff is still out there!
So, what can you do?
First- Read this post and clean up your Social Media house
Second-Find out what others are saying about your company (and what potential customers may see)
Reputation Sensitivity
What is it? Well, I'll let Darren do what he does best and explain it below!
That's a new one right? What is reputation sensitivity? Well, let me start by saying
some of you will be competing in industries that have more reputation sensitivity
than others.

Reputation sensitivity is what a consumer cares about when it comes to the
reputation of the company they may transact with. Who wouldn't care about the
reputation of any company they deal with right?

For example, you probably don't really care about the reputation of your local
pharmacy or grocery store. If you need some aspirin or a tube of toothpaste you do
what everyone does; you just go buy them. You aren't motivated to jump online,
shop around and check reviews before you go and spend money with these local
businesses.

However if someone is looking to engage the services of a plumber, electrician,
roofer, landscaper (or any kind of contractor). Those categories have a higher
reputation sensitivity; people are far more motivated to check reviews and weigh
reputations in the process of seeking those kinds of goods and services.

Sound about right?

Certain factors contribute to higher levels of reputation sensitivity (resulting
in increased inclination for buyers to check reviews) when one or more of the
following factors are in play:

● Cost: The cost of the transaction exceeds a trivial amount
● Pain or Pleasure: Emotional involvement is elevated
● Urgency: There is urgency in making a buying decision

Some of you compete in sectors where none of these factors ever come into play.
Some of you will compete in sectors where at least one or more of these factors are
always in play before a sale is made.

The take away is this…

● Reputation sensitivity will affect some business categories more than others

● Reputation sensitivity is likely elevated when customers are seeking to make transactions involving higher levels of financial and   emotional investment

If you operate a business in a vertical with high reputation sensitivity, are you
protecting and defending your brand? Are you marketing positive comments to
offset the inevitable negative reviews that surely come just from the normal course
of business?

If not, you are one negative review or comment or post away from having to spend
thousands more in marketing to offset your lose of new business because your
former prospects have opted to do business with a company that has a 5-star
reputation.

Don't let this happen to you, learn how you can defend your brand and promote your business.
I have signed up for this and the ebook I was sent is worth the price alone!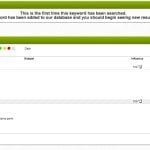 Here is a screen shot Darren sent me the first day and I am getting daily alerts alerting me to any mentions of my business name. Great way to monitor your online reputation!
Go ahead, try it and see! Comment below and tell me what you think!