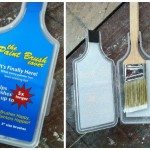 Sal at Paint brush Cover was kind enough to send over a few of these. I gave them to my crew and they used them for a few months (and are still using them).
Overall, they like them, these are guys who normally take very good care of their brushes. The original covers to most of their brushes were pretty tattered, so they did like being able to cover and protect them. They rarely leave a brush in paint, washing them out is like a ritual at the end of the day. They would have preferred having ventilation holes so they could store a clean damp brush. But they agree, for leaving a brush in paint, or storing dry brushes, they were great!
They were also listed in the "Cool Tools" section in American Painting Contractor
If you have not tried them, you can order them online, and I am sure they will be showing up in paint stores soon.
If you have tried them, tell us what you think by leaving your opinion below!
Editors note: Sal will be appearing on Shark Tank April 4 2014!