The folks at PEP Cloud have been busy adding new features to the program to streamline the estimating process. It's easier than ever to build detailed estimates, follow up with clients, and track jobs from start to finish.

Here are some highlights
Estimating Forms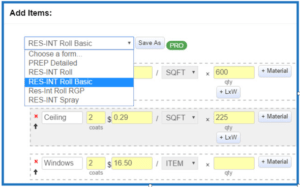 Populating the estimate with all the tasks that you're going to do is tedious if you have to go one item at a time. But what if you could call up all the items related to a specific task at once? And what if the items were already set to your preferences, including materials? And what if the standard notes you want to include are already there? Well that's what happens with PEP's Estimating Forms. Provide some basic measurements and let the program calculate quantities for you. These are completely customizable – estimate using production rates, by the hour, by the square foot.
Automated Customer Follow-up with eBids
Don't let customers fall through the cracks. And don't lose sleep worrying about whether you forgot to follow up with someone. Automate your customer follow-up process and relax!
Use an automated customer follow-up campaign to solve the problem of remembering to touch base with clients after you send them an eBid. Just set it and forget it. Your customer will receive the emails in the campaign sequence automatically.

You can set up a "Thank You" message when you send the eBid. Down the road, when your client accepts, she'll automatically receive an email from you saying Thanks (and whatever else you want to include in the message). She knows her project is important to you because you responded right away, even on a weekend. Way to go!

Some customers love to play What If. What if you don't paint the trim? What if I strip the wallpaper myself? Well guess what: you can put your client in the driver's seat with the Pick & Choose automation. It gives customers the ability to manipulate the bid and answer their own questions rather than having to wait for you to make updates.
Pipeline & Calendar

Track jobs from start to finish with PEP's Pipelines. Pipelines make it quick and easy to see where jobs are in the sales process. When the job is won, schedule it on the calendar right in PEP, assign the work to a specific crew, sync with Google, and monitor work on the Work Pipeline.
Customer Service and Video Tutorials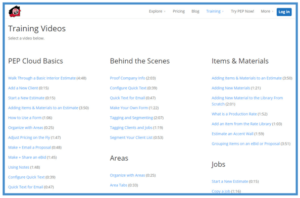 If you have a question, PEP's great about responding to emails (even on weekends). You can fire off a question right from the Help section of the software. But if you're the kind of person who wants to see how something is done, to walk through it step-by-step, PEP's Video Tutorials are for you. Videos are organized by topic and before you even click on one, you know in advance what the time commitment is.