Presto Tape Offers Retail Packaging for Blue Painter's Tape and Floor Protection Films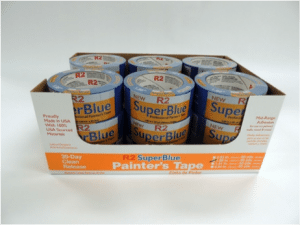 Bensalem, PA February 16, 2016—Presto Tape introduces retail packaging for its USA made blue painter's tape, floor protection film and carpet protection film.
Presto's P621 Blue Painter's Tape will be packaged under the name R2 SuperBlue™ with "R2" printed cores. The packaging allows retailers to easily offer a private label brand to its customers on their shelves or counters. The retail packaged blue painter's tape is available in 3, 2, 1 ½ and 1 inch widths by 60 yards.
Presto's blue painter's tape is a water based acrylic tape that removes cleanly for up to 30 days. It is a high performance masking tape that does not dry out or lose its holding power. Use the blue painter's tape on walls, trim, glass, woodwork and a variety of other surfaces. Other uses for the blue painter's tape are in the flooring industry. Because the blue painter's tape is clean release, you can use it to mask hardwood floors, hold polyethylene film down, cardboard and make floor markings.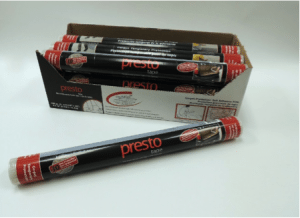 Presto's floor and Carpet Protection Films are also packaged for retail as well. Use these films to protect hardwood floors, tiles or carpets against paint spills, stains and damage. Both films are available in 24" x 50' rolls and are reverse wound for easy "kick-out" application. Carpet Protection Film is clear and the Floor Protection Film is blue for easy identification.
The packaging of the new retail products was designed with retailers in mind. Each item is individually shrink wrapped with a UPC, and the shipping box has been designed to be counter or shelf ready for point-of-sale display.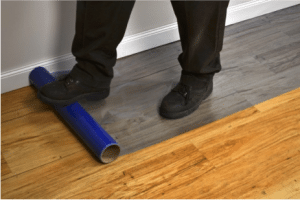 In addition to high performance, Presto Tape offers competitive pricing which in return gives you a higher margin. Presto Tape offers a fast response time, better pricing and a quick solution to any problem and is flexible to work with you to help you acquire more business. Visit www.prestotape.com to learn more or contact us at info@prestotape.com.
Presto Tape is a completely integrated manufacturer of premium-quality tapes, surface protection tapes and films designed to suit a broad range of specialized applications. Presto Tape is a proud US manufacturer located in Bensalem PA.
Marketing Contact:
Rachna Patel
Marketing Coordinator