Honestly, I don't get the whole "no need to use a primer" thing.
Our company has done new construction homes for over 20 years and we have never skipped the primer! In fact, my husband Rob is so particular about the prep and prime stages that he will rarely try a new primer, but will happily demo a new paint! One thing he has always insisted on is re-priming factory painted doors.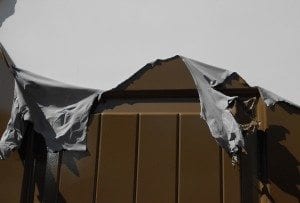 On a recent job, circumstances happened that we skipped the re-prime on several doors. Big Mistake! We used Sherwin Williams Sologloss, a long time favorite, and sprayed the doors. The doors were left standing to dry for a day and the homeowner stacked them against each other, normally, this would not be a problem. When the doors were separated, there were a few spots that "stuck" and a few square inches peeled off. We thought we could sand it smooth and recoat, but the paint just peeled off in sheets. This has never happened on doors we re-primed.
Our Sherwin Williams rep had a sample tested, and sure enough, the primer had degraded and even though we wiped the doors, the "powder" of the failed primer caused the paint to not adhere, but to "skin". There is not a lot of information on this that I could find as it relates to the degradation of shop primed surfaces. Most primers state to coat within 30 days. Using the right primer, whether it be on wood or drywall is important, as  this from Bob Cusamano shows.
In doing some research on this, I came across this, from National Gypsum:
"It is recommended that the prepared surface be coated with a "drywall primer" prior to the application of final paint. See painting specification in this regard." This is an important step that should not be forgotten before final decoration. "Drywall primer" replaced the term "primer/sealer" throughout the revised document. The application of high quality, high solids drywall primer minimizes most decorating problems.
I do believe the qualities in primer are different than paint, sure you can use the paint as a prime coat, but why would you use a more expensive paint rather than a product that was made for "foundation". Primers are formulated with binders that facilitate adhesion, and they are designed to have "tooth" for the topcoat of paint to bond to. This is the concept of a multi-coat paint system. Sure, many paints will stick to wood or drywall, but they don't seal the surfaces as well as primers that are intended to do that specifically. When using a primer, all the paint has to do is is build sheen and be pretty. The primer does that majority of the hard work at the surface.
I have compared primer in the past to the foundation makeup many of us women apply before the "finish" coat of blush, but I think  Sherwin Williams explains it much better here:
Why is primer better than plain old paint?

Primer is specially formulated to make sure the top coat of paint adheres to the surface below, creating the best-looking, longest-lasting finish. Primers are engineered for aggressive filling and binding with underlying surfaces. If your client's top coat of paint begins peeling or soaks unevenly into the surface because you didn't specify using a primer, you're back to square one – or worse.
So we will continue to prime and re-prime, even if the can says "self priming".