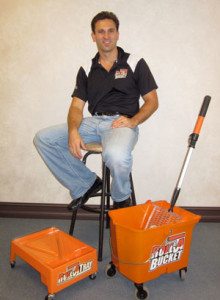 Steve Enguita is a painting contractor and has been in the  painting business since 2001. Steve knows how physically demanding it is to work on a paint job. Being up and down a ladder all day, as well as moving a 23 pound paint bucket every few feet, is not easy. 
Steve knew of a painters trick to complete the job faster by using a commercial mop bucket. Although the mop bucket was an easier way to paint, it wasn't made specifically for painters. This prompted him to pursue the "paint bucket on wheels" idea.
Read more about his story here.
Check out the Roll a Bucket here, let us know what you think if you have tried one!
President / CEO
★★★★☆

" When I received the Roll a Bucket I gave it to my lead painter to try out. He really liked the Roll a Bucket, he stated \\\"the Roll a Bucket works great for any job interior or exterior, rolls very easy\\\".\r\nHe has used it on several jobs already and really likes the product."

- Steven Gloyer
Roll-A-Bucket Is AMAZING!
★★★★★

" Wow! What an amazing product! It makes painting interiors, exteriors, floors, decks, and patios a breeze. We were sliding regular paint trays on the floor or moving them from place to place, which is, obviously, inefficient, messy, and difficult. With the Roll-A-Bucket, you get a sturdy pail that you do not have to keep refilling or wiping up drips that flow over the sides. Not only is the Roll-A-Bucket innovative and practical, it is extremely well built with durable plastic and sturdy rubber wheels. It rolls so smoothly, and, without feeling like it is going to fall apart on you. We are continuously using this product and it has helped us get jobs done faster, cleaner and with less backaches!\r\n\r\nIf you are thinking about trying the Roll-A-Bucket, go for it! You will super happy you did!\r\n\r\n"

- Matty Costantino
4.5

out of

5

based on

2

reviews.
Overall rating: