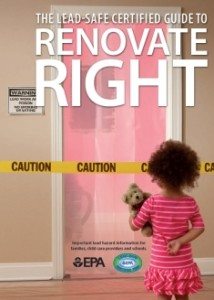 The announced July 15, 2011 changes to 40 CFR Part 745 Subpart E, better known as the Renovation, Repair and Painting (RRP) Rule requires contractors to begin immediately handing out a new Renovate Right pamphlet when the changes are placed in the Federal Register.  The new rule will be placed in the Federal Register in the week of July 24, 2011 … so they are moving rapidly.
To be on the safe side, you should begin handing out the new Renovate Right pamphlet immediately.
If you would like to make a copy of the July 2011 Renovate Right pamphlet you can go to the following link http://www.epa.gov/lead/pubs/renovaterightbrochure.pdf.
If you already have copies of the old Renovate Right pamphlet (April 2010), you are allowed to create a copy of the change page (pg 10) and insert it into your existing pamphlets.  An insert can be found by going to http://www.epa.gov/lead/pubs/insert.pdf
Note:  We are also hearing that there could be a possibility that the 2011 RRP Rule changes become immediately effective when published in the Federal Register.