One-stop destination app provides easy access to business tools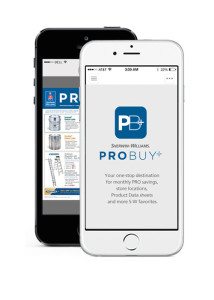 CLEVELAND (July 7, 2015) – Sherwin-Williams announces the launch of the ProBuy+ app, a one-stop destination providing professional painting contractors easy access to product savings, store locations, product data sheets and other tools needed to run their business and help customers while on the go.
"Professional painters don't often have the luxury of waiting until they have access to a computer to find important data they need to conduct the business at hand. The new ProBuy+ app puts those tools within a few clicks on their phone, avoiding delays while on a job or in the field," said Jeff Winter, director of marketing, residential repaint, Sherwin-Williams.

Contractors in need of supplies and equipment can look to the new paint app as a guide to the latest ProBuy deals, even sending alerts when the newest ProBuy offering has arrived.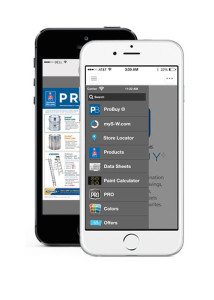 The ProBuy+ app also makes helping customers easier. Contractors can explore the latest coating innovations and find information to explain the benefits of each type of paint. They can also access the complete    Sherwin-Williams color palette and swipe through more than 1,500 Sherwin-Williams paint colors conveniently arranged by color family. A paint calculator is included as well.
Along with these tools, the app gives contractors access to their Sherwin-Williams account information. Users can simply log on to myS-W.com to obtain balances, statements and invoices, and even make payments from their phone.
For more information about Sherwin-Williams new ProBuy+ app, visit Sherwin-Williams.com/painting-contractors.
 Ask Sherwin-Williams™
For nearly 150 years, Sherwin-Williams has been an industry leader in the development of technologically advanced paint and coatings. As the nation's largest specialty retailer of paint and painting supplies, Sherwin-Williams is dedicated to supporting both do-it-yourselfers and painting professionals with exceptional and exclusive products, resources to make confident color selections and expert, personalized service at its more than 4,000 neighborhood stores across North America. Sherwin-Williams has been ranked "Highest in Customer Satisfaction among Paint Retailers, Three Years in a Row" in the J.D. Power 2015 Paint Satisfaction StudySM. For more information, visit sherwin-williams.com. Join Sherwin-Williams on Facebook, Twitter, Pinterest, Instagram and Tumblr.