Color Savvy Mobile Match offers easy, affordable solution for contractors, designers and remodelers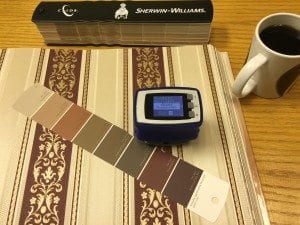 CLEVELAND (July 9, 2015) — Sherwin-Williams has announced the launch of Mobile Match, a new tool to end color-matching guesswork. Mobile Match is an affordable handheld color matching tool that makes it easy for contractors, designers and remodelers to find matching colors. By placing the device over any surface, Mobile Match provides users the three nearest Sherwin-Williams published paint colors, along with an indication of match accuracy.
"The strength of Mobile Match is in its accuracy, portability and simplicity," said Jeff Winter, director of marketing, residential repaint at Sherwin-Williams. "We're pleased to offer this affordable time-saving device to our professional customers."
Mobile Match is compact and battery operated, with a pinpoint viewfinder that easily targets samples as small as 1/8 inch.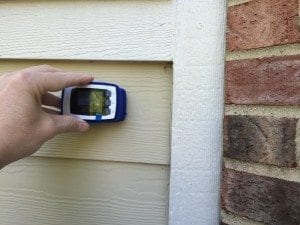 With a simple point-and-press approach, users position the viewfinder over the color, press down, listen for "start" and "finished" beeps and view the top-three color matches listed on the screen. It's ideal for a range of uses, from matching existing paint colors to replicating hues on other surfaces. Mobile Match, manufactured by Color Savvy, is available for purchase for less than $60.00 and sold exclusively at local Sherwin-Williams locations. For more information, visit sherwin-williams.com/painting-contractors.
 Ask Sherwin-Williams™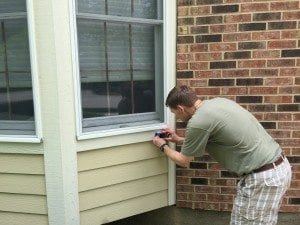 For nearly 150 years, Sherwin-Williams has been an industry leader in the development of technologically advanced paint and coatings. As the nation's largest specialty retailer of paint and painting supplies, Sherwin-Williams is dedicated to supporting both do-it-yourselfers and painting professionals with exceptional and exclusive products, resources to make confident color selections and expert, personalized service at its more than 4,000 neighborhood stores across North America. Sherwin-Williams has been ranked "Highest in Customer Satisfaction among Paint Retailers, Three Years in a Row" in the J.D. Power 2015 Paint Satisfaction StudySM.
For more information, visit sherwin-williams.com. Join Sherwin-Williams on Facebook, Twitter, Pinterest, Instagram and Tumblr.
About Color Savvy: Established in 1997, Color Savvy provides precise, easy-to-use technology that helps professionals and consumers select colors.