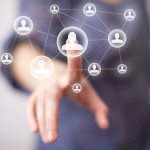 Over the past few years, as Social Media became the "thing you must do for your business", many  of us set up Facebook, Twitter, Linkedin and other accounts. Some posted a few times, saw no ROI and said "this sucks, not gonna do it", many set up automated systems to blast out messages on a scheduled basis, others created active pages that interacted with their customer base, the few that have done that well report good results.
I was just as guilty, when I first set up the Blogging Painters Twitter, I just sent out messages, well, about 6 weeks ago I cleaned out my Twitter stream using Twitcleaner. Since then, I have enjoyed interacting with people I had been following, but not listening to! Those conversations have spilled over into Facebook, here at Blogging Painters and even emails. I am continually thankful for the great people I run into online and look forward to building more relationships!
I like what John Jantsch from Ducttape Marketing says,
The surest way to make social networking pay is to build deeper relationships with fewer people. Likes and follows and witty tweets may create awareness for your brand and open doors for actual networking, but nothing can deliver the payoff of actually helping someone else get what they want or connecting with someone who can help you get what you want.

But here's the really interesting thing about this point of view – you accomplish both – helping people get what they want and connecting with those that can help you get what you want in exactly the same way – and that's by giving.

Here's your 2-part assignment for the next month.

Go to "Two ways to see Social Networking really pay" to find out more!
I think I'll take John up his challenge, will you?