SpillFix: A Painter's New Best Friend
Cleaning paint spills is easier than ever before thanks to American Green Ventures' latest absorbent product. SpillFix Industrial Organic Absorbent, available through SpillFix.com, is exactly what professional painters need to finish a job more efficiently – all while keeping their work environment paint-spill and paint-fleck free.
Why Should Painters Use SpillFix To Clean Paint Spills?
SpillFix Industrial Organic Absorbent, an all-natural absorbent product, will efficiently remove paint spills from a range of surfaces, including concrete, wood, granite tiles, bricks and more. While rags and other clean-up tools often require scrubbing to remove a drying paint spill, simply layering loose SpillFix absorbent product over a paint spill and leaving the product for 30 minutes will result in a clean, paint-free area. The result of using SpillFix is the ability to clean paint spills quickly, safely and efficiently. This not only saves a painters' time, but ensures that their final job looks perfect upon completion!
How Exactly Do Painters Clean Up A Spill With SpillFix?
When a spill occurs, painters can simply drop some of the product around the edges of the paint puddle to prevent it from spreading. Next, they should sprinkle more product on top to cover the whole spill. After that, they should mix the product together with the spilled paint. From there, all they have to do is wait for the spilled paint to be absorbed by the SpillFix product. During this process, the spilled paint will become trapped the hollow structure of the absorbent product.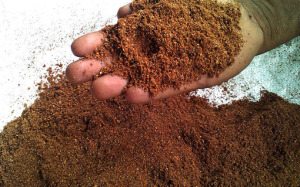 Once the paint is fully absorbed into the product – which takes roughly 30 minutes – workers can pick up the used SpillFix into with a shovel, spatula or other similar tool. At that point, the product is ready for disposal – or even re-use, if the spill is small enough!
What Else Do Painters And Workers Need To Know About SpillFix?
American Green Ventures, the creator of SpillFix,  is dedicated to creating a useful product. However, safety is is just as important as efficiency for American Green Ventures. So when workers clean spills with SpillFix, they can be assured that every last bit of product will be cleaned away No by-product or slippery residue will be left behind, ensuring that a work zone is made safe for painters and their staff as quickly as possibly.
Even better, by design SpillFix is  safer for worker lungs than many other cleaning products available today.  In fact the organic nature of SpillFix makes it a safe product for workers and the environment alike: not only is SpillFix safe for use, it also creates less waste and is landfill safe. The result? The product carries lower disposal cost with no environmental impact.
Think SpillFix may be what you are looking for? Want to learn more about the product's design and multiple uses? Check out SpillFix's website to learn more about what will make this all natural spill absorbent a great fit for your company.
About American Green Ventures
American Green Ventures (US) Inc. was established in 2012 to provide quality eco-friendly products and solutions to North America. The company delivers unique solutions to industries and consumers alike. Through research and development, American Green Ventures has designed spill clean-up solutions for both industry and consumers that are cost effective and environmentally friendly.