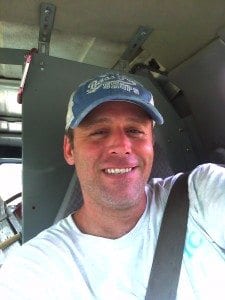 Editors note: Johnson Home Construction was the winner of the Product Review Class in the recent www.topcoatreview.com Contractor Blog Shootout. Tommy is a talented writer, active blogger and social media participant.
Hi,  I'm Tommy Johnson, owner of Johnson Home Construction, a seven year old company based in Wallace, NC. JHC has one full time employee, and as many as seven seasonal part time guys. I like to keep things small, and feel I can ensure a consistent quality of service better this way.
I started out as primarily a painting contractor and had six full time employees running two crews. After the recession hit construction really hard I downsized and diversified our services. I love painting. It is the root of my services, mostly because I started painting when I was 18 working for a large contractor in Wilmington NC. A little later in my career, I worked for a tile contractor for a few years in the 90s and learned a good bit about kitchen and bathroom remodeling. I also worked on a framing, and finish carpentry crew for a while as well. So it was easy to decide what additional services I wanted to offer other than painting.
The economy has been improving, and I have chosen to still offer kitchen and bathroom remodels, and love installing tile for clients. We have built a pretty decent customer base for remodels, and many customers like doing one or two rooms at a time so it leads to repeat business. We still paint a lot of houses, and hopefully always will.
I have had a
Linked In
account since forever, and don't make much use of it. It took many months of gaining friends and interests on
Facebook
for me to really enjoy it. I just recently set up a
Twitter  account
, I never did get into it personally, but I do find it interesting for sharing links to interesting sites, and articles.
I always wanted to blog about work but just kept putting it off. I have a few tech related blogs I have had for years. One of which is pretty popular, and it is another passion of mine. I love anything tech, and video game related. Geek for life. 🙂 I look forward to sharing ideas with others on this site.