Nowadays, people are spending more time on their phones than ever. In fact, marketers spent $8.3 billion on social media advertising in 2015 and 78% of companies say they have dedicated social media teams, according to Sprout Social.

When it comes to social media marketing for painting contractors, it's all about the visuals. While we all probably got the silly meme sharing and holiday posts down pat, here are some other post ideas that can give you a lot of mileage.
Team Spirit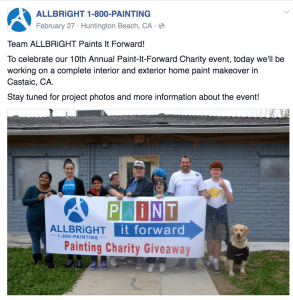 Is your office manager having a birthday? Is there a company weight loss contest going on? Show your customers the behind-the-scenes activity of your workers to warm up to them and to reinforce your brand. Showing off your company culture and star employees not only is a feel-good thing to do, it's just a lot more interesting than a picture of pancakes for National Pancake Day. Your customers would much rather see your team engaged in a pancake-baking contest.
Before & Afters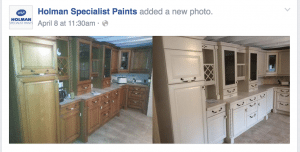 What better way to demonstrate your expertise than to take before and after pictures of your job? Not only can you show your customers the pride you take in your work, you also can re-purpose them for an online gallery on your company website. Being social media-savvy while on the job is an efficient, cost-effective way to market yourself on multiple platforms.
On-The-Job Animal Sightings
People love pets, and they love pet pictures on social media accounts. Whether it's a beautiful lab snoozing under a window or a silly squirrel sighting, pull out that camera and post it on your page! Just be sure your customer's okay with any footage you shoot on their property.
How to be Successful With Social Media

Each social network has its own quirks and best practices. But there are also some general tips for success no matter which platform your company is focusing on. Here are some more tips for using social media for business growth.
Andres Cuellar of Texas Professional Painting is a San Antonio painting contractor, specializing in internal and external painting for residential and commercial clients.