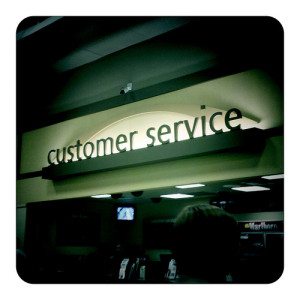 While social media has developed into an important tool for marketers, it is also an excellent medium for providing customer service. Traditionally, call centers, help desks and online chat applications have been the avenues through which companies offer customer service. Despite the effectiveness of these service options, social media presents itself as a much more convenient channel for customers to reach out to companies.
Considering that social media is becoming a popular place for people to make customer service inquiries, monitoring these platforms is becoming increasingly important from the perspective of the organization. If used correctly, it is a way to interact with customers in a timely manner and to address their needs. If handled poorly, social media puts customer service blunders under the spotlight. Here are some tips for using social media to your organization's advantage in terms of providing customer service.
Develop Dialogue
Social media platforms are not simply a place to advertise and to spread news. They are also mediums for interacting with people and developing trust in your brand. Rather than waiting for a complaint or an issue to arise, take the initiative and address your customers first. If your company recently renovated a home and the owner tweeted about how great it looks, inquire about their experience and thank them for using your service.
Starting this type of back and forth dialogue will make customers feel more comfortable with your company and make them aware that you are actually listening. Addressing positive feedback in this manner is a great way to discourage negative feedback in the future.
Handling Complaints
Although social media is a great place for people to connect with your organization, not all of these interactions are going to be positive. Just as people will show interest in your brand and its products, they will also express their distaste or negative experiences.
Rather than letting this negative feedback ruin your brand's reputation, Social Media Today suggests that it is an opportunity to display the quality of your customer service. In order to handle negative feedback in a timely and graceful manner, someone at your organization should be consistently monitoring social media channels for it. When a complaint is received, you can then inquire about the nature of the issue and offer your company's best solution to the customer.
For instance, if your interior design company painted and remodeled a home the customer may communicate an issue with your service via social media. Finding out what this issue is and coming up with a viable solution will help to appease this individual. Not only will this make the individual with the complaint feel valued, it will also demonstrate your organization's dedication to meeting customer's needs.
Airlines, with their frequent delays, make some of the best and worst examples of customer service done through social media. JetBlue Airways is always quick to assist their frustrated customers, helping out however they can: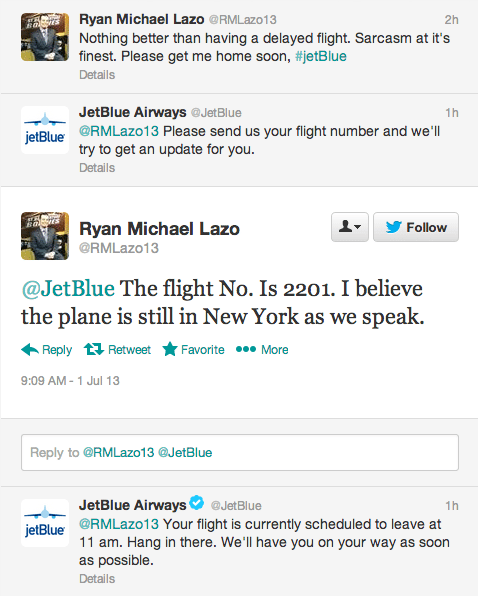 Sometimes, all it takes is a little compassion.
And then there are the terrible examples. Although it may be tempting to automate your tweets to respond to feedback, it's rarely a good idea, as American Airlines proved in February of this year: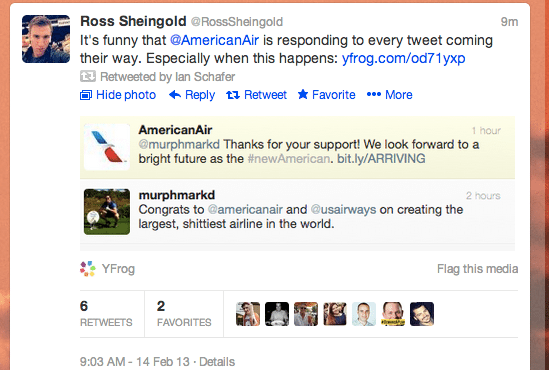 If your company is having trouble handling all the @mentions coming your way, get more people monitoring tweets before you end up in an embarrassing situation like this one.
Direct People to Your Site
While commencing dialogue with disgruntled customers on Twitter or Facebook is a start, ultimately you should direct them back to your website. This should be where most of the solutions to the customer's problems can be solved. You can get them in touch with a representative, refund their purchase or offer them a discount.
This style of customer service also applies to service industries. Painters and interior decorators may offer to repaint a dissatisfied homeowner's exterior free of charge or to refund their money. If your rodent pest control company doesn't defeat a pest problem, you can return to spray again. You get the idea. In this way social media serves as a venue for initiating customer compensation.
Ask For Feedback
The aforementioned tips offer suggestions for handling customer feedback on social media. While you should be prepared when digital feedback does arrive, you shouldn't simply sit around and wait for it. Encouraging your audience to offer feedback is a great way to get the discussion started and to find out what people think about your brand.
Ask people to share their experiences with new products, inquire about what they would like to see change about your services or offer incentives for filling out surveys. Not only do these gestures provide you with valuable information, they also show that your organization cares about what customers think.
Social media is no longer simply a tool for sharing information with broad and non-specific audiences. More and more companies are recognizing its value for reaching out to individual people and addressing their needs and concerns. Employing some of these tips will ensure that your brand is benefitting from this evolving customer service platform.