I recently noticed Devyn (Owner of DE Web Designs) giving advice to members at a popular paint forum I visit and was impressed with his responses. He has created a website generator that can create a professional looking website for a minimal monthly cost and optimize it, a challenge for many paint contractors. I was curious, and I asked him a few more questions after he generated a site for me here. If you want to create a site like this for your business, you can generate your painting website here.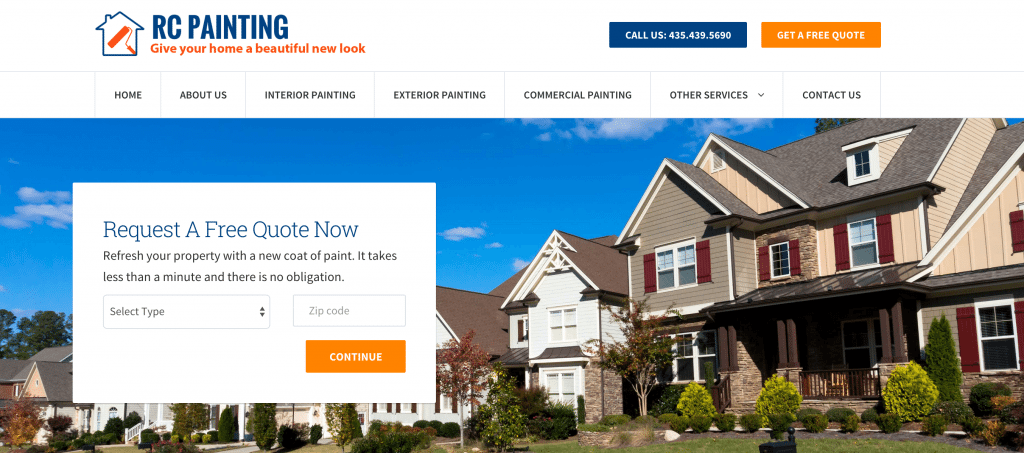 Devyn recently posted an article on his site, "Why does your business need a professional website" and I asked him a few questions about his services.
Q.Who are you and what do you do?
A.DE Web Designs is a web design and search engine optimization company that is focused on creating new customers through first page search engine results. We get our clients' website on the first page of search results. When a potential customer searches online for a service you offer, they'll find your website and contact you instead of your competitors.
Q.Will I have content that is unique to my area/company?
A.While the content is already created as you can see from the generator, we are more than happy to make changes or additions to it. The content will be specific to the area you primarily focus on
Q.Can I use my own photos?
A. Absolutely! Send us the highest qualities photos and we will switch them out, add them to the site and even format a gallery if you have enough. The higher the quality, the better they will look.
Q. Can I use my logo and logo colors throughout the website?
A. Of course. The logo on the generated website is there for illustration purposes. Although, if you do like it, we can modify the colors or leave it as is if you don't have a logo.
Q. Will my site be mobile-friendly?
A.Yes. All of the professional websites we create are mobile-friendly. It's a standard to us, and it's an important ranking factor in Google's eyes.
Q.What if I don't have any social media accounts? (G+, FB, Twitter)
A. That doesn't matter. If you have them, we can link your social media on the website so new visitors can follow you. If not, and you choose a package with social media management, we will create them for you and you will never have to worry about it.
Q. What happens when the contract ends?
A. After the contract term is up, you can cancel the contract or let it renew for the same term length. If renewed, you will continue to receive the monthly services for the same price. Once the contract is cancelled, all monthly work stops and all changes or additions will be based on an hourly fee.
Q.What if don't have a domain name?
A. No worries. We will find the right domain for you. It costs an additional $10 to register for a year and $15 each year to renew. We do not have control of these prices.
Q. Do you do the hosting?
A. Hosting is included while the contract is active. After the contract is cancelled, hosting is $10/month and is due annually.
Q. What happens if the site goes down?
A. In the very unlikely event that your website goes down, we will do everything we can to get it right back up. The hosting company we use guarantees 99.9% uptime.
Q. Do I have to do backups or updates?
A. No you do not. We manage everything for you so you can focus on your business.
Q. Once the contract is up, do we get to keep content?
A. After the contract is paid for, the website, domain, content, images, etc. are yours.
Q. What's the process if I want a change made on my website?
A. It's much quicker for both parties to just send us an email with what you want changed and we'll take care of it within 24 hours normally. Most changes are included in the monthly fee while under contract.
Q. Do you provide the support?
A.We provide everything you need help with. From setting up your emails onto your cell phone, email applications on your computers or laptops, to website changes or additions, we are here to help.
This sounds like a very good approach for those not ready to invest in a custom site (expensive), or realize that their time is better spent in their business, not in their website or keeping up with the ever-changing world of SEO (time-consuming).