And Why Should You Be Using It?
Let's imagine for a second that you're planning a home remodeling project; maybe a bathroom, kitchen, or combining a couple of small spaces into that large family room you've always wanted.
Now imagine you could pour yourself a hot cup of coffee (or tea) and step into a room full of building, remodeling, painting, and design professionals. Every single one is there to answer questions, show their work, discuss materials and methods, and offer inspiration.
Other homeowners are there too, sharing their success stories, engaging with you about your own project goals, and offering tips that they either picked up or learned the hard way. It's a relaxed, enthusiastic, and organized event, and everyone is simply there to help.
Finally, let's imagine that you could do this without leaving your home. In a nutshell, this is Houzz.com.
The Short History of Houzz
In case you aren't entirely familiar with the site, here is a very quick look at its origins.
Houzz was born out of the frustration of a couple trying to describe the vision they had for their home to an architect. They were asked to assemble photos and information about what they were looking for, but it was a tedious, messy, inefficient process.
They set out to create a website that simplified this process. Since its conception in 2009, Houzz.com has grown into a home improvement powerhouse, boasting over 35 million users around the world.
Is Houzz Worth Your Time As a Busy Professional?
The benefits for homeowners are clear. But, we can hear you asking yourself this all-important question:
"Why should I spend any time on this? Is it really worth it?"
Trust us. We understand. As a busy remodeling and restoration company, we know what it's like to prioritize time, carefully considering what is worth the investment of those precious hours. In short, yes. Building and growing your Houzz business profile offers the following benefits:
Allows you to claim real estate in one of the busiest home improvement market places in the world
Provides a chance for you to showcase your very best work
Directs visitors back to your website and, ideally, converts these visits to leads
Houzz casts a wide net, but users can search for businesses that are local to them. This means that you will likely connect with potential clients right in your service area.
Clients can leave reviews and feedback for others to see
With consistent positive reviews and engagement, you can enjoy recognition by earning annual "Best of Houzz" award badges. These respected badges can then be shared on your website, Houzz profile, email signature, blogs, etc.
Further establishes you as a helpful, experienced leader in your field of expertise
Don't Just Make a Houzz Profile; Make it a Destination for Your Audience
Houzz offers clear steps for how to begin your business profile, but there are specific tips and techniques that you should put to work in order to make yours thrive once it's launched. There is definitely a big difference between a minimal, stale company profile and a busy hub of activity. If yours doesn't engage your visitor they can (and will) always move on to another!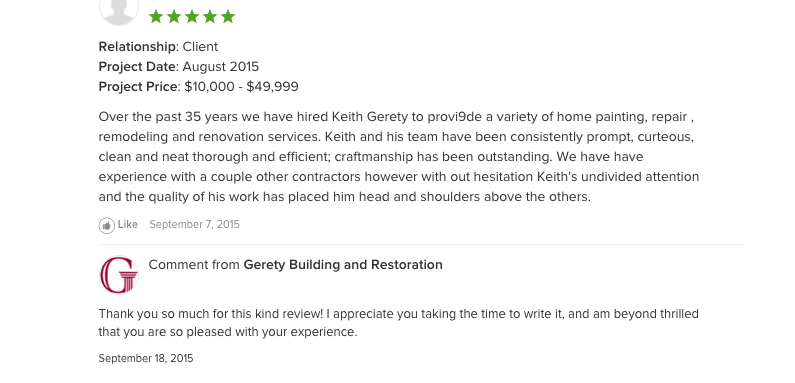 Let's take a look at a few of the most important techniques.
7 Steps to Creating an Engaging Houzz Profile
Describe your company – Include a brief, upbeat description of your company and/or services. Don't be too sales-driven or wordy, but quickly and concisely tell visitors who you are, what you do, and how you can help. Imagine what you would tell someone in person if they shook your hand and said, "So, what do you do?" As an extra tip, consider sharing why you love your work!
Choose a profile picture – Avoid a generic photo (no sunrises or kittens). Include either a photo of yourself, a couple of key players in your business, or an official logo for quick brand identification.
Include social links – Do you have accounts on other social profiles? If visitors like your page, they might also want to follow your other social media outlets.
Add photos – This is such an important topic that we'll focus on it more heavily in just a moment.
Seek out reviews – A positive review lends tremendous credibility to your profile. You can invite clients to leave a review through an email platform built right into Houzz. For extra convenience and clarity, the email automatically includes a link that provides simple instructions.
Engage in the community – There are a huge variety of home forums on Houzz where people ask questions, share photos, look for advice, and seek out professional opinions. Take time each week to look for questions you can answer and ways you can engage in the conversations. It may be as simple as pointing out what you like about someone's recently-completed project!
Point to your Houzz profile – We touched on the value of showcasing your "Best of Houzz" badges, but be sure to include links to your Houzz account on your website, in your email, and on your other social accounts too. Take a look at our page here to see what a Houzz widget looks like (it's on the right-hand size).
Why Are Photos Important for Your Houzz Profile?
On one hand, pictures are an opportunity to showcase your work. It's also no secret that social media is a visually-driven outlet, meaning that a photo is more likely to grab attention than a line of text. Here are a few tips for making the most of your images: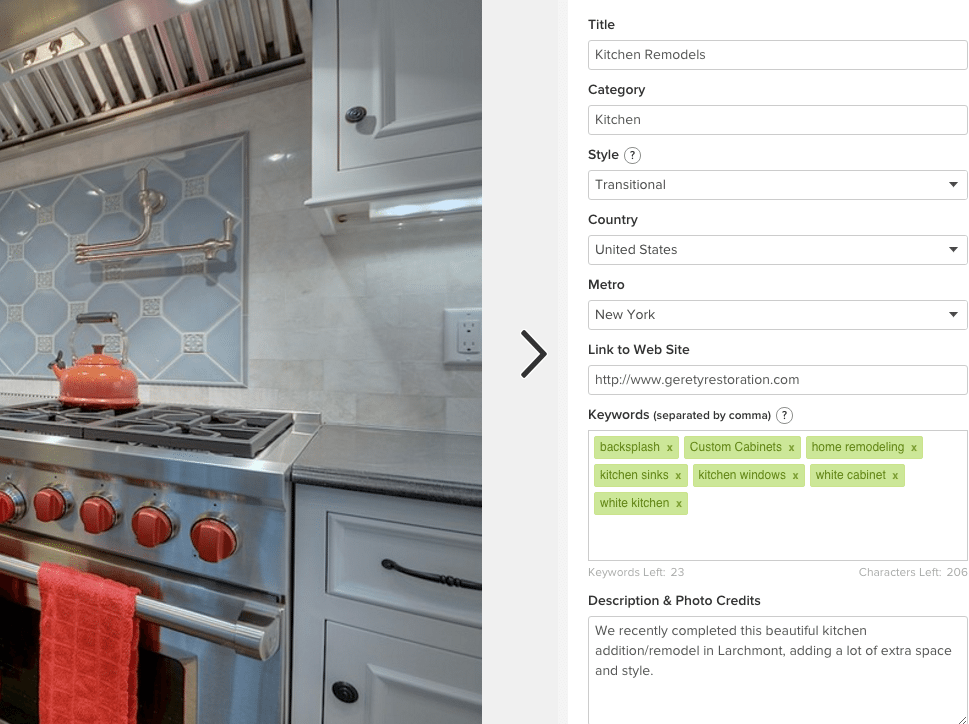 Go for quality AND quantity – No fuzzy, low-resolution photos. Try hiring a professional photographer to capture the highlights of your finished project, or at the very least invest in a quality camera.
Upload your photos to Projects – You can create a Project album to either share images related to one specific project you completed, or use them to categorize certain types of photos (kitchens, bathrooms, living rooms, etc.).
Tag your photos – When you upload an image, be sure to add as many refining descriptions as possible. And, don't forget to label each one with descriptive keywords to help Houzzers find your photo.
Ideally, people will not only find your photos but add them to their own Ideabooks. If we circle back to the very beginning of this post, Ideabooks are essentially why Houzz was created and what makes it unique.
Homeowners can create an Ideabook that includes photos that exemplify the styles, materials, and designs they love. It's a wish-list, if you will. This can then be shown to their professional (maybe to you!), offering you a clear perspective on their vision.
Once Your Houzz Profile Is Up and Running, Use It!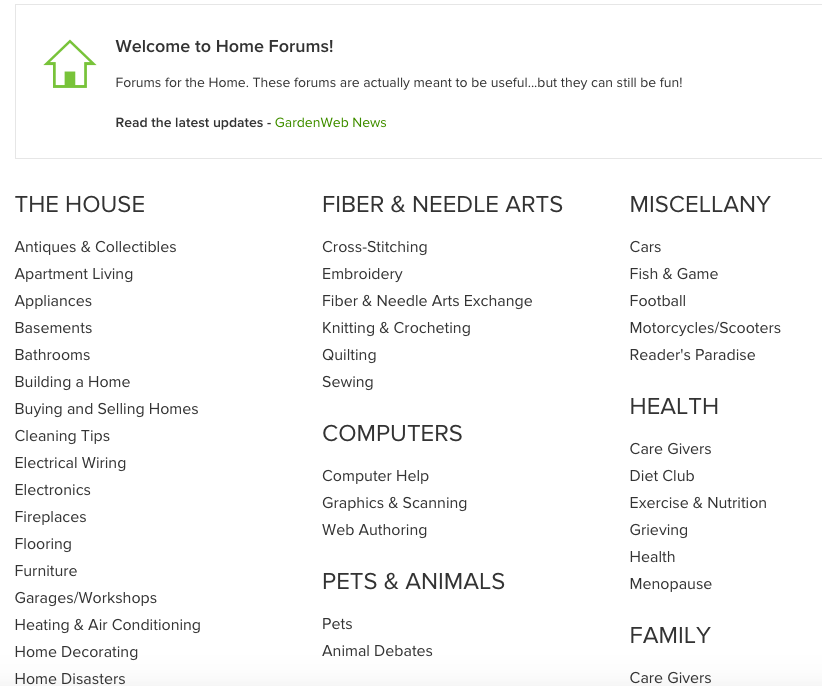 Remember, don't set it and forget it. Houzz is an opportunity for quality engagement, and you should dedicate time each week to answer people's questions, add new project photos, comment on other folks' work, and answer personal messages that you might receive.
Most of all, have fun with it! Houzz is an amazing tool if you use it to its potential.
Keith Gerety is the president of Gerety Building and Restoration, a full-service remodeling contractor specializing in renovations, additions, and restorations. For more than 35 years, He and his team of craftsmen have helped to transform, enlarge, enhance and restore homes throughout the Westchester, NY, and Greenwich, CT, area.