What color should I paint my bedroom?
Simple question right? Unfortunately, the answer is not that simple.
What are the factors that need to be considered before we even think about a color for the bedroom? Well for me, just one. Who's sleeping in the room? A man? A woman? Both?
We'd love to choose the latest and greatest color trend for the master bedroom because the market is just flooded with decor to match. What happens if the color is too feminine? Too masculine? That is where the problem lies.
What should we do? Often, when I'm at my color consultation and she loves a color and he has a color in mind as well but neither of them like each other's choices, a color intervention needs to happen.
We need to get a color compromise.
I have to consider both colors of course but really don't want to go with either of their choices because I try to keep the color neutral. I don't mean beige when I say neutral I mean going with a color that neither of them suggested. This way, nobody wins but both are happy because a "new" color was chosen. No sides were taken. It's a win-win!
Here are some options.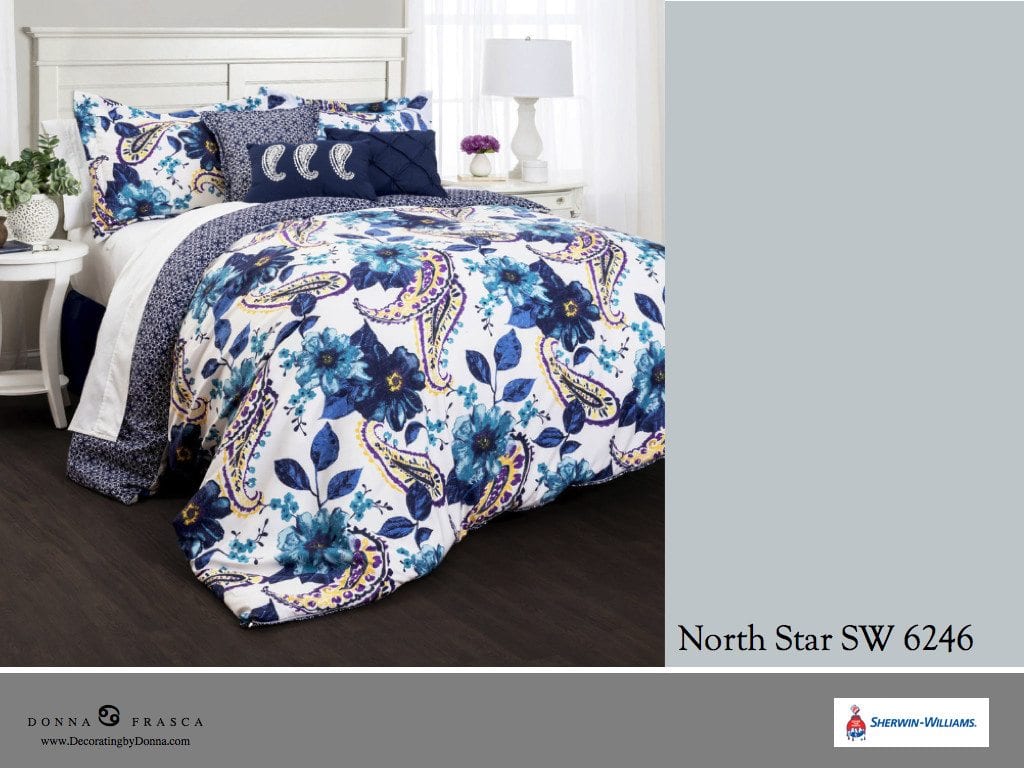 This is a great color choice for the bedding in a master bedroom. The blue has a nice masculine flair and the flowers soften it up. I chose North Star by Sherwin Williams for a wall color choice so the bedding remains the feature. North Star is soft and coordinates well with the overall look of this room.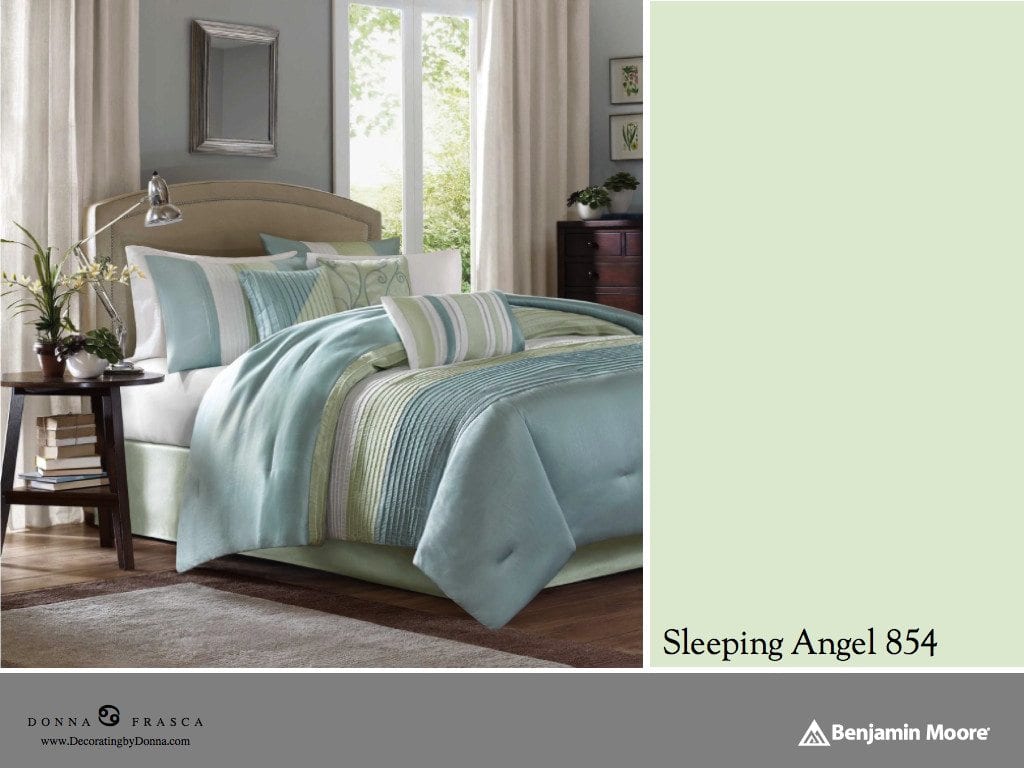 Sleeping Angel  by Benjamin Moore is an unusual choice for this room. It really goes well with the bedding but it's one of those universal colors that are neither "boy" or "girl". This is also a great choice for a nursery if you don't know the sex your baby yet. Sleeping Angel is also fitting if your room has poor lighting or faces North.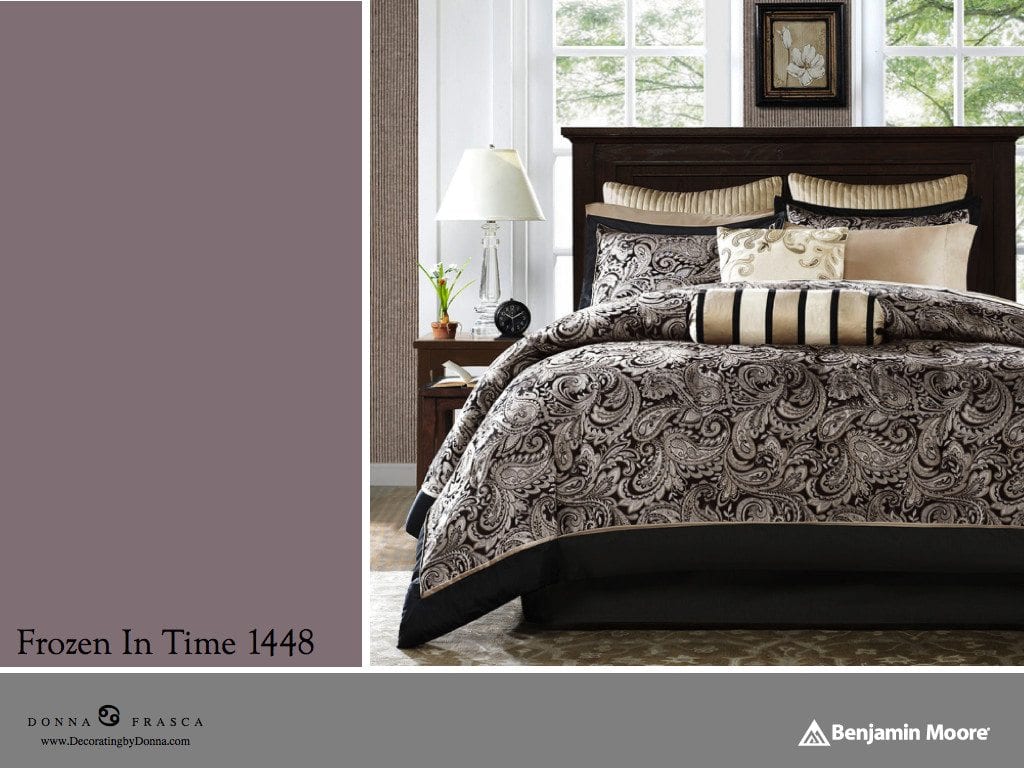 Talk about sexy! I LOVE choosing a muted purple for the master bedroom. This hue is widely liked by both men and women and it's one of those colors that neither would have thought about using for their room. Isn't this pretty? I'm pretty sure I'd choose a color very similar to this one if I had to repaint my bedroom … if Mr. liked it that is! (insert laughter)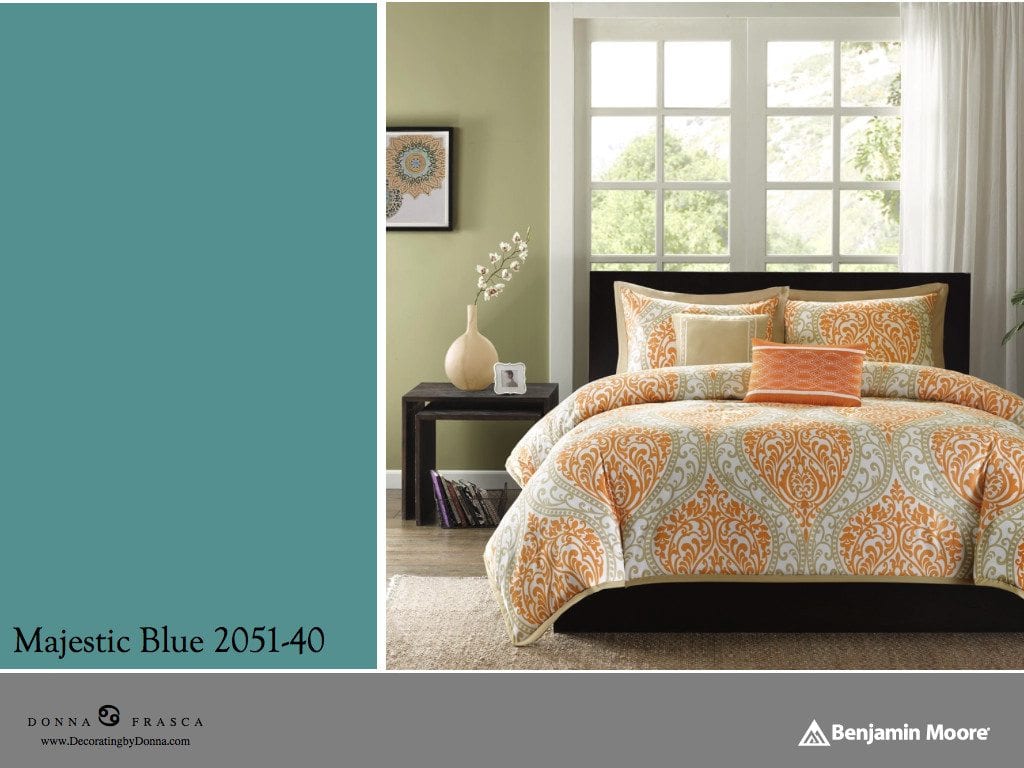 Majestic Blue has a little tropical flair so if you live in Florida and prefer a more colorful, Caribbean feel then this could be an option for you. It's the perfect color to accompany the orange in the bedding. Bedding a little feminine? Man up the room with a majestic color.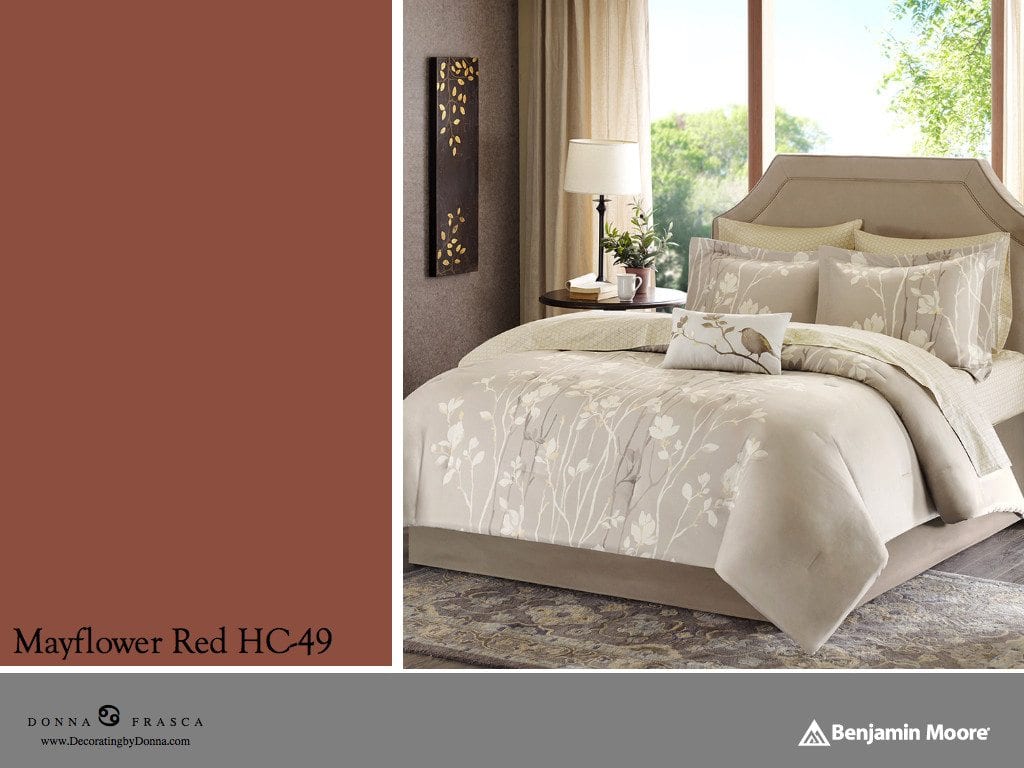 Last but not least, dealing with neutral bedding. More than likely if the homeowners choose a neutral bedding they may be reluctant to go with a bold wall color such as this. Just don't rule it out. This wall color is cozy, sexy and and clearly masculine which is what this room needs because of the very feminine bedding.
See how we compromise? And that my friends is what choosing color is all about. Like this bedding? You can purchase it from Overstock.com and the colors from Benjamin Moore and Sherwin-Williams. I hope I opened your eyes up a bit to some color possibilities that you normally would not have thought of for the master bedroom.
Which color would you choose?