This week marked the first birthday of www.warlinepainting.ca. Does that surprise you? If it does, it's probably because I haven't shut up since I got here. Well it's completely unbelievable to me too and I have been the one nursing and caring for our website for the last year.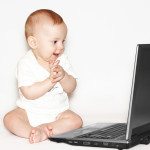 Launching a website and having a new baby are a lot a like. The biggest being, it is WAY more work than you could imagine. There is a fair amount of sleep deprivation and of course the never ending feeding of your growing and demanding child that can make you wonder when if they will ever become self sufficient (FYI your kid might, your website won't).
Like any new parent I could go on endlessly about all the individual moments and milestones of the last year but I won't torture you. Instead I am going to share with you the three biggest lessons I have learned since launching our site. (I'll also step away from the baby metaphor now, before it gets old).
Get Over Getting to the Top
I still remember the day that I realized that just because I built a great website, didn't mean anyone was going to see it. Thankfully, I had this little epiphany before I launched our site so I was able to have it built with good SEO in mind.
The bigger wake up call however happened a few months after my site was up and running and I had posted a dozen or so nice articles on my blog and I still didn't rank anywhere close to the top of Google in any of my keywords.
What was possibly going wrong?
Surely Google had to recognize my great looking and well laid out site, loaded with relevant articles and nice photos of my work. Ya well, the reality is that isn't how it always works.
If you are in a small demographic area, it fairly easy to get to the top of Google rankings. If you are in a highly competitive, over saturated market, full of companies all wrestling for the top spot, it is way harder. In my opinion, its also not worth the headache when the same thing can easily be accomplished with a wonderful little technique called PPC advertising.
The best advice I got this last year was too stop worrying about how to get to the front page of Google (without paying) and be more concerned with making sure the reader that does get to your site, stays there.
Ahhh. The real light bulb moment.
I am not suggesting that you ignore SEO. I am suggesting that if you let SEO become the focus of your internet efforts you have completely forgotten the point of your website. Investing all of your efforts into getting someone to your site is pointless if your site is has no value to the reader or if it looks and reads like crap. Which brings me to my next big lesson.
It Better Look Good and Sound Good
You have to invest in your site in both design and content. We are painters at Warline. People paint to make rooms and houses look nicer. Therefore the photos on my website better reflect that. Now they do.
The site also had to be well laid out, easy to navigate and most of all give the reader the information they are looking for. What you say on your site and how you say it makes a big impression on your customer.
I am so glad that I early on figured out that when it comes to content, quality trumps quantity.
If you are writing for Google, you are not putting your customer first. Your customer is smart enough to know the difference too.
If you write keyword stuffed content on your website, full of typos and spelling mistakes, for all of your existing and potential customers to read, what do you think you are saying about your company? Pushing out tons of useless content and attaching your name to it is a reflection on you and your company. You might get the traffic but that doesn't mean you'll get the calls.
I only put on my website information that is going to help my customer make the decision as to whether or not we are the right painting company for them. As my SEO rankings slowly climb and more and more customers show up on my site, they are getting a really good information on the type of company Warline is and what we do.
That takes me to the biggest lesson I learned.
Your Website is a Master Multi-Tasker
I originally thought my website would be a marketing tool for Warline, much like a glossy brochure that I showed clients and used to help close sales. It makes me laugh now to think how much I under-estimated what a good website was capable of.
Your website is like a super charged employee. You have to pay it well and give it the resources its needs to do its job, but in return it is a sales force, an information library, a recruiting tool, a brand builder, a customer qualifier, a disqualifier, and a spokesperson. And it doesn't need sleep.
When we launched our website, one year ago it was about 30 pages. Today it is over 100 and growing.
I knew we would use our website to introduce our company philosophy and mission to potential employees. What I didn't expect was that our website would actually be what attracted them to Warline.
Our company blog has categories for homeowners on topics from how to hire the right contractor to choosing the right paint colours. The goal was to educate and help customers through their painting projects. Turns out that not only has it helped customers but it has allowed us to set the bar in what a customer should expect when they hire a painter.
Of course the biggest job our website does is generate leads. What I learned over the last year though was that my website also had the power to make the phone ring by a certain type of customer. My website could help qualify the right customers and disqualify those that didn't fit our customer profile. It took time to learn this and a lot of editing of our website content but now when the phone rings it is generally from a customer that already understands that we are a quality first company. We don't waste as much time on estimates and jobs that aren't a good fit for our company.
Three big lessons. There are infinitely more than just three but understanding the true value and power of our website have been the biggest. A year ago I started out thinking I was creating a tool for  marketing and today I realize that I am the marketing tool. Our website is in charge. It has the biggest voice and is very demanding. Much like having a new baby.