Not all buildings are created equal…
Even though concrete structures have gained lot of popularity over the last decade, masonry and brick facilities still offer a lot of value. A time-tested material, masonry structures are easy to upkeep and maintain, while offering a lasting value and energy efficiency. These structures offer higher protection against fire, superior moisture control and high wind. And because of these values, brick structures are commonly used for industrial and commercial buildings. But the painting of brick structures differs from concrete. Different materials and processes are required, to successfully coat the rough substrate and avoid adhesion failure.
But despite all of these benefits, brick and masonry can have certain limitations.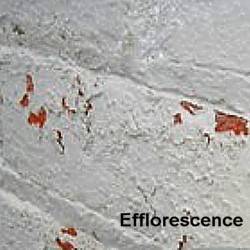 Masonry walls suffer from problems like efflorescence, displacement, changes in color and leakage of water. But, the most commonly found problem is that coatings often peel. It's simple to understand the importance of a strong adhesion, but these common issues can influence adhesion failure:
Efflorescence due to presence of soluble salts – Even though the surface of walls are given acid wash to remove excess mortar and salts, salts under the surface are still present. These soluble salts get deposited on the surface when the water gets evaporated. This layer of soluble salts disturbs adhesion between wall and paint, thus pushing away layer of paint from the surface. This results in peeling.
Moisture – Water can seep into brick walls through joints in mortar, pores of bricks and other minute gaps. If moisture is allowed to settle, it results in damage to the wall in long-term leading to big cracks and peeling in walls.
Applying alkyd or oil paint – If alkyd or oil paint is applied to concrete, especially unetched concrete, it forms a soapy layer between the wall and coat. This film reduces adhesion between the two, leading to peeling of coating.
How can you avoid adhesion failure?
If you want to fix peeling of your brick and masonry walls or are planning to repaint them, here are some points you should be careful of:
Make sure the bricks are completely dry before you start repainting the wall. Water can come from anywhere, and if the time isn't taken to ensure the substrate is dry, then this could lead to adhesion failure. First find the source of moisture in the wall and fix it. Also look for small cracks and unfilled gaps on both sides of the wall. Fill in all the gaps with a paintable caulk.
If you have applied cement or any other material for fixing cracks and gaps, wait for it to dry completely before you apply the top coat.
Try to make the wall surface even by scraping of layers of loose paint. If the surface is not properly scraped, it won't let the new coating settle uniformly and form a strong adhesion with the surface.
Whether you talk about home structure painting or commercial painting, choosing a successful paint is vital for longevity and effectiveness of the paint. Consider a good quality moisture resistant paint, and perform the necessary surface preparation to ensure that its application is done properly.
Otherwise, bigger problems may appear later.