SHERWIN-WILLIAMS UNVEILS COLORMIX™ 2016
 CLEVELAND – Sherwin-Williams colormix 2016 collection, unveiled today, anticipates the optimistic spirit of 2015 will continue to drive trends in the world of color. The annual Sherwin-Williams color forecast collection cultivates this positive outlook and highlights a passionate pursuit toward mindfulness, happiness, indulgence and well-being. Vintage workmanship, social engagement and all the exciting possibilities future technologies can offer are also reflected in the collection's four color stories, created to provide inspiration and trends for design professionals.
  "We're seeing people embrace advancing technology, while also returning to the quality, personal connections and handmade craftsmanship from years past," said Jackie Jordan, director of color marketing, Sherwin-Williams. "This year, we forecasted colors that provide a range of inspiration for designers to create spaces that surround us with the things that ignite our passions and make us feel happy and healthy."
 Jordan, along with Sherwin-Williams color experts, researched global trends to determine the 34 colors that make up the forecast. The colors are grouped into four palettes: Pura Vida, Mas Amor Por Favor, Nouveau Narrative and Trajectory.
Pura Vida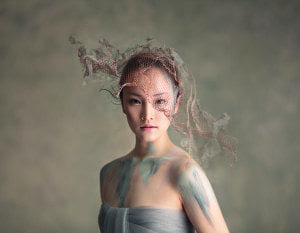 Taking inspiration from natural elements, such as stone, alabaster and sand, as well as natural fibers, such as cotton and jute, the colors of Pura Vida remind people to be conscientious of their overall wellness, and are vital for creating spaces to unplug. Nomadic sand baths, therapeutic massage and the natural materials reminiscent of those treatments influenced the palette. It includes honed and sheer tones, marble hues, warm grays, khaki tones and blushed neutrals.
 "We are awakening from the recession, hungry for new orderliness, ready to feed the spirit, make memories and savor the moment," said Jordan. "Pura Vida is driven by health and wellness, natural healing and unplugging, and the colors in this palette speak to environments where we feel balanced and at peace. We are inspired by Arianna Huffington's book, Thrive, among others, and anticipate a world with more adaptive relaxation spaces, especially in healthcare and hospitality environments."
Mas Amor Por Favor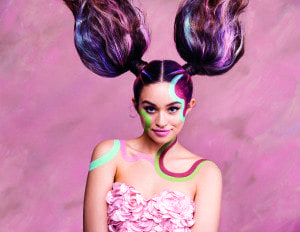 Meaningful life begins close to home, and this palette is driven by in-person social engagements as people rediscover the pleasures of intimate gatherings, garden parties, personalized outdoor weddings, multifamily living and playful indulgences like champagne towers and vintage florals. This palette connects across generations with dashing greens, cheeky pinks and a flower power that is as crisply modern as it is soulfully vintage.
 "The colors of Mas Amor Por Favor are whimsical and optimistic. The palette is largely inspired by the More Love Please social campaign that began in Sao Palo, which encourages people to increase the world's happiness by doing good and appreciating everyday pleasures that come with living a life more physically connected to the people around us," said Jordan. "Looking forward, we expect to see big brands adopting this sentiment with more purpose-driven marketing efforts."
Nouveau Narrative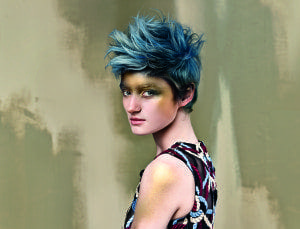 This palette celebrates the return of skilled labor, and an appreciation for quality craftsmanship and small-batch production, and is made for passionate people who appreciate craft, design, authenticity and quality. The palette looks to the past to inspire our future, driven by new aesthetics collaged from the pages of history books with curated thrift stores, the new Maker Movement and industrial-influenced style.
 "The colors of Nouveau Narrative reflect the rugged determination of the American spirit with olive, denim, dusky wools and brass," said Jordan. "The new industrial evolution may be small production, but it is built to last. Authentic 20th century machinery is being dusted off and reconditioned as North American manufacturing re-emerges in new form."
 Trajectory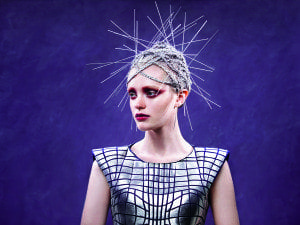 The fast-paced world of technology keeps society living in a constant state of wonder as increasingly powerful computers and extreme materials combine to make fantasy a reality. Augmented reality, 3D printers, drones and new apps that make everyday chores feel frictionless drive Trajectory. The palette is filled with icy blues, shimmering pewter and sophisticated plums showcased in stunning gloss finishes.
 "As the boundaries between art, science and commerce continue to blur, Trajectory is driven by new technologies and space-age materials that create endless possibilities for the future," said Jordan. "This palette's vibrant, saturated colors in gloss finishes hint at next generation materials like carbon nanotube and electronic ink, of which we have just scratched the surface."
Color Selection Made Easier
Design professionals are encouraged to visit swcolor.com to view the colormix 2016 palettes as well as all Sherwin-Williams colors and collections, links to downloadable palettes for use in color rendering software and access the online Color Visualizer. Designers can also register on myS-W.com and order large-sized color swatches and fan decks.
 Sherwin-Williams STIR® magazine annual print edition and eExtra e-newsletters also provide inspiration, news and resources for design professionals. Visitswstir.com, as well as search for "Sherwin-Williams Design Pros" on your favorite social channels including Facebook and Twitter.
 In addition to interactive tools and inspiration, such as the ColorSnap® Mobile smartphone app and ColorSnap Studio™ iPad® app,Sherwin-Williams offers offline help with COLOR To Go® paint samples and the Sher-Color™ Advanced Color Technology system for fast, accurate color matching.
The colormix 2016 colors
Pura Vida

Mas Amor Por Favor

Nouveau Narrative

Trajectory

 
Ask Sherwin-Williams™
For nearly 150 years, Sherwin-Williams has been an industry leader in the development of technologically advanced paint and coatings. As the nation's largest specialty retailer of paint and painting supplies, Sherwin-Williams is dedicated to supporting both do-it-yourselfers and painting professionals with exceptional and exclusive products, resources to make confident color selections and expert, personalized service at its more than 4,000 neighborhood stores across North America. Sherwin-Williams has been ranked "Highest in Customer Satisfaction among Paint Retailers, Three Years in a Row" in the J.D. Power 2015 Paint Satisfaction StudySM. For more information, visit sherwin-williams.com. Join Sherwin-Williams on Facebook, Twitter, Pinterest, Instagram and Tumblr.