For cleaning standard rollers with nap ¾" or less and most 1″ naps.

Remove 3-12 ounces of paint from the roller in seconds before putting in water (or solvent).

Continue cleaning in water (or solvent) and restore your roller to like-new condition.

Do it all in minutes, without touching any paint. Great gift for painters. Satisfaction Guaranteed

Made in the USA of hardened-tempered stainless steel spring wire for years of use.

Painting tip:   Before you dip a bone dry roller in latex paint,  completely wet it in water.   Then begin.  The slightly damp nap and core will prevent first dip paint from drying deep in the nap,  thus, cleaning will be much easier later.   And, the first dipped paint will behave the same as all the other dips.   It will not dilute your paint if you spin the excess water out before you dip it in the paint.
Norman Young, the inventor of the Curly Q was kind enough to provide a roller cleaner to a few for our readers. If you want one, check  here on the Amazon site where they can be purchased. Leave a review here after you try it!
Thanks to one of our readers for sending the picture of the Curly Q in use!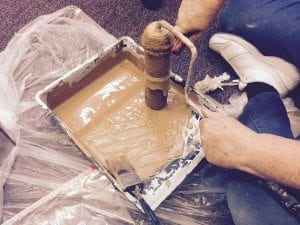 Amazing Tool!
★★★★★
"
This little tool was amazing. It really does the job and I save 1/4 to 1/2 cup of paint in my clean up. Plus, I don't wash that paint down my drains. I would definitely recommend this to anyone who is painting. It makes clean up faster and easier.
"
Curly Q
★★★★★
"
Had the opportunity to test drive this new product. I let my lead painter use it and he had nothing but nice comments about the ease of use, and the ease in which his roller cleaning became. The product works as advertised and will likely be in all of our painters boxes before long. Simple ideas are always the best. Great NEW product.
"
Curly Q
★★★★★
"
Very good tool. We have used it on numerous jobs and different size of roller covers. The Curly Q is very efficient and saves a lot of time and paint when you go to clean up at the end of the day. I highly recommend this product.
"
Curly Q
★★★★☆
"
The Curly Q is a very easy and efficient way for my painters to clean their roller covers, it saves us time, money and paint.
"
Curly q
★★★★☆
"
loved the fact that this product shaved off about 6 minutes of normal rinsing time to my Roller covers, It works !!
"
Curly Q
★★★★★
"
When it comes to cleaning a roller sleeve the Curly Q has replaced my painter's knife. The Curly Q has found a home in my everyday tool box just for the ease of use and time savings alone compared to other roller cleaning tools.
"
4.6

out of

5

based on

6

reviews.
Overall rating: