As a website designer for painting contractors, the single biggest request that I receive when a client says they need a new website is that they need SEO. And it's true: SEO is a fantastic way to generate more traffic to your website. It also is an asset – once you have a high ranking, you keep it. But how do we "get more SEO"?
Before we jump into the best ways to be found on Google, it is important that we understand how Google works. When a user goes on to Google and searches for something, they expect to have a relevant result. If the user consistently receives a website on Google which is not what they were expecting, they will ultimately go to other search engine like Yahoo or Bing. Google wants to be the best search engine possible. When someone is searching for an "exterior painting contractor" or "commercial painting business," Google is going to show whoever "looks" the most credible to them. Here's how you get found on Google:
1. Create and Optimize a Google My Business Listing.
A Google My Business listing is an online profile created with Google which tells Google exactly who you are, what you do and your contact information. The best way to find out if you already have a Google my business listing is to Google your business name. If a profile shows up on the right hand side similar to this image shown, you already have one. If there is not a box on the right hand side, you need to create one.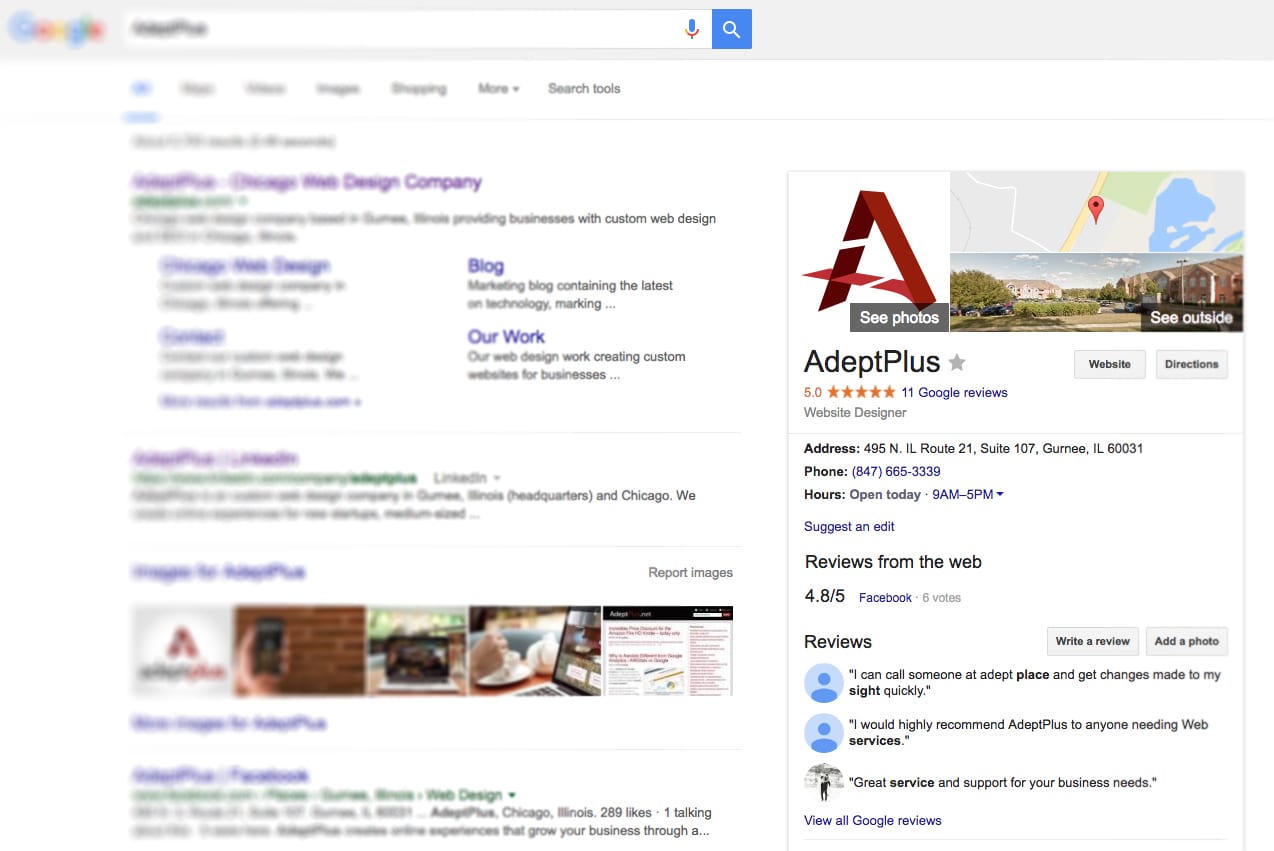 Your profile can be created or modified at google.com/business. It is 100% free. Make sure that all of your information is thoroughly filled out; you want to provide Google with as much information as possible.
This is also where you're going to ask customers to review you. The more reviews, and higher rated that you are, the higher up you will show up on the rankings. In previous years, Yelp was the number one source for reviews. However, due to the recent accusations on Yelp, Google has decided to create their own system (Google My Business). Because it is a Google system, they overpower Yelp by factoring your reviews into your search engine optimization (and ultimately how you rank).
2. Your Online Listings
Online listings are any profile that you have online. This can include Yelp, Yellow Pages, Home Advisor, Angie's List and any social media profiles. Make sure that all of this information is identical and that you are including your business name address and phone number. If Google sees inconsistencies among these profiles you will lose credibility because they don't know which website is accurate.
It is a tedious process to Google yourself and go through every single profile, but it is well worth it. Once that is established, the best practice going forward is to make sure that any future profiles you create are all identical.
3. Your Website
Ultimately your website is going to be the most important factor of your ranking on Google. Although there exists a comprehensive process for improving your ranking online, the important thing is to ensure that your content on your website includes the different keywords which you'd like to show up for. The content (headlines and paragraphs) on your website should include keywords like "painting contractor" and your local cities.
I would advise hiring a specialist to work on your search engine optimization if you haven't already. Here's why: a couple of months ago we had a client come to us in desperate need for search engine optimization. They had hired a cheap SEO company for $200 a month in attempt to save money from Angie's List and HomeAdvisor. They had also just redone their website. The SEO company made several mistakes including a duplicate website on Google as an attempt to generate more leads. However, because Google saw duplicate profiles and web sites on the web, they realized that this was unreliable, inaccurate information. Google ultimately completely removed both web sites and listings from search results and the business lost all incoming leads.
While we were able to restore their website and their rankings, the critical thing here is to hire an expert who understands the web and can get you real results.
What Should I expect?
Once you obtain high rankings for valuable keywords, you should expect more traffic to your website which ultimately results in more leads. I would recommend focusing on keywords which are going to generate leads in your target market. An example of some of these keywords would be the location (cities with higher house values usually mean larger jobs) and the type of painting job (residential versus commercial; exterior vs interior). Please view one of my latest case studies for inspiration.  
By putting time and resources into your online business, you are ultimately investing in an asset. You keep the website and rankings, and it continues to generate more revenue for your business.
If you have any questions, please feel free to comment below or drop me a message at pruchti@adeptplus.com.