(Written by Donna Frasca)
As a Color Expert in Charlotte, NC, I am constantly tracking what are announced as the colors of the year and watching the color trends as they come and go. I was super excited when I saw that Exclusive Plum (SW 6263) was chosen by Sherwin-Williams as the Color of The Year 2014 . Why? Because I know it's a very likable hue and it's been steadily making its way into our homes over the past several years.
What color is so versatile that it can be manly enough for a Man Cave yet sophisticated enough to be paired with any metallic for the most elegant look for a Master Bedroom? That color would be Exclusive Plum (SW 6263) which Sherwin-Williams has just announced as their Color of The Year for 2014.



I'd like to talk a little about Exclusive Plum before I move on to some questions for Jackie Jordan, Sherwin-Williams Director of  Color Marketing.
How many of us still have the blue and gray hues that are extremely popular in the home? Looking at the color chip of Exclusive Plum, can you see both blue and gray undertones in it? Sure you do! Another reason why this color will have tremendous staying power in the home.
Purple has also been very prominent in the home as far back as 2007. The color pendulum favoring purple has swung back and forth quite a few times over the years especially in terms of it being an extremely desirable accent color or sought after color to have in the bedroom.
To be more precise, the popular Sherwin-Williams hues that have been chosen for our homes are really not "purple" at all but more so in the violet family which of course is a classification of purple.
The colors strips on pages 2-6 in the Sherwin-Williams paint fan deck have been extremely popular with my clients particularly for bedroom color choices. Why? These colors are attractive to both men and women which makes it a perfect choice for the Master Bedroom. They are not too manly or too feminine which is ideal when both a man and women share a room.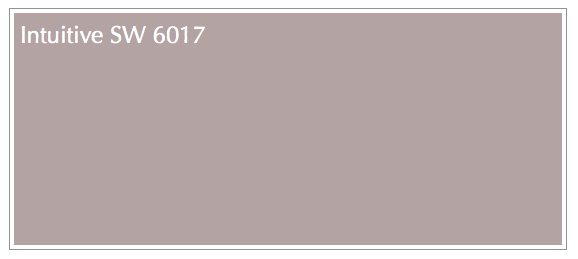 Why is Exclusive Plum so likable? We all know that blue is the #1 hue to have in the home. It can be found in just about every way, shape and form from those ever so popular coastal colors to the regal Naval (SW 6244).  Exclusive Plum is a perfect blend of smokey blue with a pressing undertone of violet which unites our beautiful blues and sassy purples.


Exclusive Plum can be found in the Curiosity grouping from the colormix 2014. Here you have hues that at first glance, would make you wonder if you could really make them work in your home.  This is yet another reason why Exclusive Plum is so awesome. It's one of those "out of the box" colors that just work.
And now some questions for Jackie Jordan, Director of Color Marketing of Sherwin-Williams.
Donna: Exclusive Plum seems to be the perfect blend of our lovable blues and trendy purples. Knowing that Jackie, do you see Exclusive Plum becoming more than just color of the year? I can see this color not only as an obvious choice for wall color but also as a new eye shadow, color choice for the trending painted furniture that was so prominent at High Point Market and of course in fashion. What are your thoughts about its longevity?
Jackie: Exclusive Plum has greater appeal and application across a lot of product categories. It is not too saturated, or too bright. I can see Exclusive Plum being used in textiles, with its richness coming to life in velvet, and certainly with cosmetics. The color has great appeal for an eye shadow or nail polish. I've seen the purple trend in fashion, as well. Exclusive Plum is certainly a very wearable color and its influence can extend beyond wall color.
Donna: How can Exclusive Plum be used in a room that has very little natural light? Can this color be used in a Northern exposure without looking too dark or cold? What other colors would you pair with it to enhance or lighten a darker room that is using Exclusive Plum as a full wall color? Or would you suggest just using it just as an accent color?
Jackie: Depending on what mood you would like to set, Exclusive Plum can be used in a room with little natural light.  The color lends itself well to creating a room that is more intimate and romantic (such as the den in the image below). To lighten a room, Exclusive Plum can be used as an all-over wall color, highlighted with white trim, furniture with linen upholstery and an off-white carpet or area rug. It can also lighten a room when used with metallic accents, particularly silver, or with reflective finishes, such as a large mirror or a mirrored piece of furniture.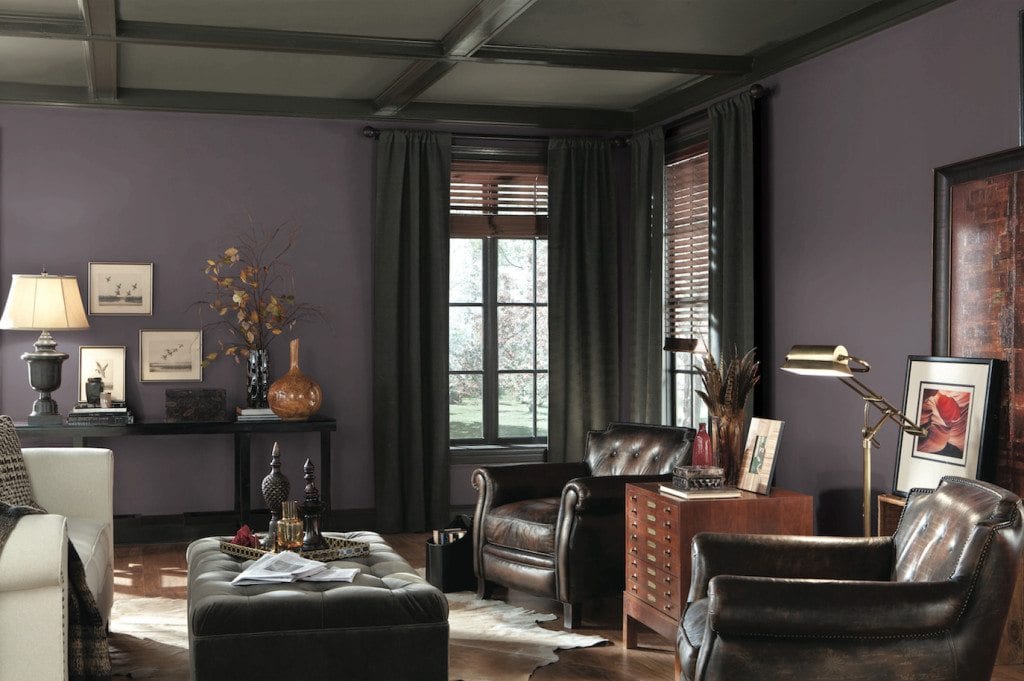 Donna: Gray is also another hue that is extremely popular in the home. I'm sure people who want to use Exclusive Plum would like to know which Sherwin Williams grays would look best with it. Can you recommend a few that will work well with Exclusive Plum?
Jackie: Exclusive Plum works best with a neutral gray, or a gray that has less blue undertones. Agreeable Gray (SW 7029) is a nice, neutral gray. Amazing Gray (SW 7044) and Collonade Gray (SW 7641) are slightly darker grays that also work well. I have Amazing Gray in my bedroom, paired with plum accents, and it looks fabulous.
 Donna: Wow, I bet it does! What about ceiling color? Color for the 5th wall is so very popular now. Would you recommend using Exclusive Plum for the ceiling?
Jackie: Paired with light gray walls, such as Agreeable Gray, Exclusive Plum would work well as a ceiling color for a bedroom or dining room.
 Donna: Another color trend that is appearing in the home is darker flooring. Medium to dark wood floorings are extremely desirable now. I would think we'd need a a trim color that could really provide definition and separation in between these two darker surfaces. As the Director of Color Marketing for Sherwin-William's, which neutrals do you suggest pairing with Exclusive Plum to compliment without creating a high contrast?
Jackie: Accessible Beige (SW 7036) offers a pretty balance between beige and white, and is light enough to work well as a trim or door color. With a darker floor, pure white trim would add high contrast. To be more adventurous with trim, you can also try gray tones , such as Agreeable Gray (SW 7029) or Amazing Gray (SW 7044).
Donna: Exclusive Plum with metallic accents are a gorgeous duo, a little Steampunk actually which is very exciting! What other colors can be used with Exclusive Plum to give it that trendy Steampunk feel?
Jackie: The Curiosity palette from Sherwin-Williams colormix 2014, the collection where Exclusive Plum sits, work together to create a Steampunk feel in any room. Antiquarian Brown (SW 0045), also from the Curiosity palette, represents a copper metal, and pairs well with Exclusive Plum as do Relic Bronze ( SW 6132 ) and Library Pewter ( SW 0038) both representing metals in the Steampunk vibe.
Thank you Jackie for answering a few questions about Exclusive Plum. It's a great color choice for 2014 and we look forward to seeing how it plays out in our homes.