STRAIGHT CLEAN LINES MADE EASY

For professional results, use EasyMask® KleenEdgeTM Painting Tape. Easy to apply and remove, this tape will save you time and money. The unique masking paper design catches paint spills and splatters while you paint straight lines. Perfect for painting walls, ceilings, trim, windows, baseboards, faux finishing and more!
Have you tried the KleenEdge? Leave a review!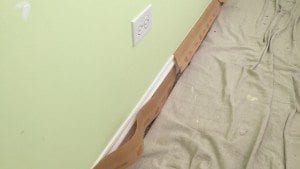 Kleen Edge Masking Tape
★★★★☆
"
A good product but could be better. Let me explain... It is easier to use than blue tape because it's more like using a straight-edge. It's rigid so it keeps a truer line. The thing I have found trouble with is that it is not as sticky as blue tape and tends to come loose. If it were not for this, I would use it exclusively.
"
-
Owner, Mike's Custom Painting
Kleen Edge Masking Tape
★★★☆☆
"
Product #329410 6" and the smaller one as well. Very excited to put this tape to the test. Applied to baseboards after covering all the flooring. The 6" tape provided a crisp line and overlapped onto my drop cloths, eliminating any worry about over spray hitting the base. Returned the next day to find that a large amount of the tape had released from the baseboards due to , high humidity, 75 degree ttemps.this item has a designation on the package of "Low Adhesion" which unfortunately cost me hours to remedy. If there was a mid to high adhesion version of this product I would give it another shot. It is my opinion that it may work well in an absolutely clean and controlled temperature environment like filtered shop. However most job sites don't meet this criteria.
"
Kleen Edge Masking tape
★★☆☆☆
"
As a residential repainter we were excited to try out Kleen Edge on baseboards homeowners elected not to have painted. After cleaning the baseboards and allowing to dry, the stuck well and gave a clean edge. Our objection to using this product again is that anywhere you overlap Kleen Edge ontop of another piece of Kleen Edge it fails to stick together. We prepped a whole room with Kleen Edge on the baseboards, pressed it all with a 5in1 and clean dry rag only to see wherever it overlapped falling off. We resorted to pulling all of it and remasking with a competitors product. We were less than pleased with the performance.
"
3

out of

5

based on

3

reviews.
Overall rating: