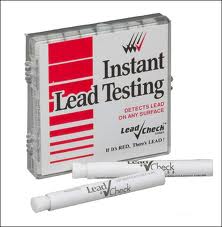 The Environmental Protection Agency has announced that LeadCheck is now approved to test drywall or plaster.  You can verify this by going to http://www.epa.gov/lead/pubs/testkit.htm
This approval was in the works back in September of 2010, but wasn't made official until a few days ago.  It seems LeadCheck had to do some of their own test, before the EPA felt comfortable.
The Renovation, Repair and Paint (RRP) Rule specifically states that you must follow the directions of each approved test kits.  Where LeadCheck uses a V cut on wood and other substrates, on plaster and drywall the instructions change.  You will need to make a pocket on the wall and let the reactive reagent drip down from above the pocket.
Hard to put down in writing, so luckily, we have a video http://leadcheck.com/using-leadcheck-on-plaster-and-drywall.