If you are a painter that likes to keep on top of trends, the latest one to emerge in color and paint is something called full-spectrum color. Basically it is color created from a minimum of five colorants and without the use of black or gray in the mix.
The result is richer and bolder color that appears more luminescent. There are a number of companies offering a full spectrum palette but probably the biggest and most popular release in the last twelve months was Benjamin Moore's introduction of Color Stories.
I recently completed an interior repaint for a customer using almost entirely Color Stories colors. Here are some tips I learned for ensuring the end result is a story you and your customer want to read again and again.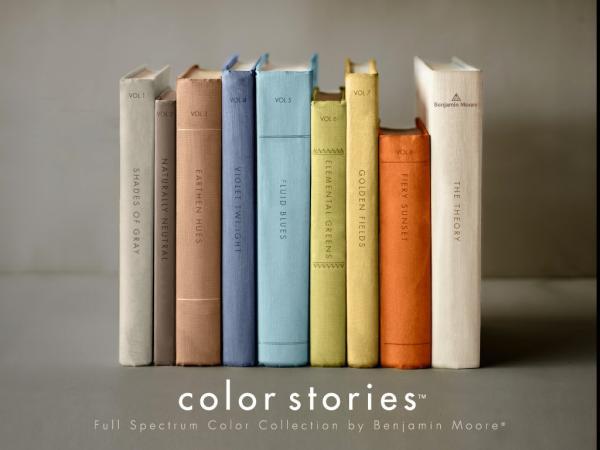 Sample the Color First
Invest the time and effort to make big poster sized samples. You need to see how they look in a larger context. The larger samples (4X4) in the store are a good place to start but you really do need to sample these colors because they are bigger and more intense than you think. Benjamin Moore is now selling pint-sized pots of Aura to allow you to test these colors in smaller sizes.
Noteable is that the Color Stories fan deck and the paint chip samples are made from actual paint so you really can trust the fan deck to be giving you the true color. But you still have to sample the color.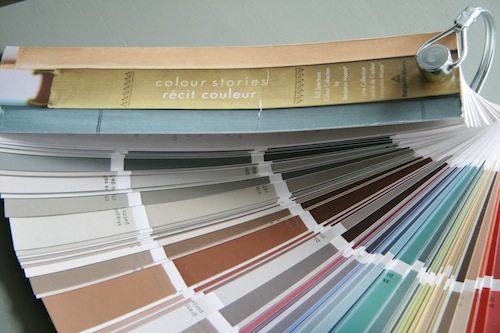 No Black or Grey Means More Color
The well-known secret to finding the right color for a customer is to choose a grayer version of the color a customer wants. It will help tone down the intensity and make it more usable in more settings. If a customer wants a sultry purple master bedroom you show them a gray with a purple undertone. Since Color Stories have no gray or black in them you get more intense, richer color. This can be perfect for feature walls, powder rooms or small spaces but it can also be overwhelming. Make sure you are choosing a color with the right amount of intensity.
Don't get me wrong though. For the customer that loves color or a space that you want the wall color to be front and centre, the intensity and depth of the Color Stories palette are unmatched.
Don't Pre-Judge Before it Dries
There is so much colorant in this paint that as it dries it literally transforms before your eyes. As it cures, it gets deeper and richer. Whatever the undertone of the color is, it will come through, so know your undertones.
And here is another tip. Have your paint store run any Color Stories paint through the shaker twice. There is so much colorant added to these paints that there is almost not enough room for them to mix properly. Mix well at the store and then again when the can is opened before using.
These Colors Change Like a Mood Ring
Full spectrum colors are very luminescent. They will look different in different light and at different times of the day. This is part of the beauty and attraction of Color Stories.
However, if you have a customer that doesn't believe their bulkhead is the same color as the wall or looks at a corner and wonders if the two walls are the same color because one side looks darker, probably Color Stories will be a challenge for them.
I recommend the Benjamin Moore Aura Waterborne Interior Paint in the Matte finish (product no. 522) if you are using bolder colors from the Color Stories palette. The matte finish really improves the depth and richness of these colors compared to an Eggshell finish.
Helping your customer navigate through the process of color choice can be an important part of ensuring a positive end result. Understanding full spectrum color and working with your customer to select the right colors from Color Stories can result in beautiful rooms and happy customers that are telling stories of their perfect paint job.