VALLEY PRO PRODUCTS® Introduces New Line of Eco-Friendly Disposable Paint Tray and Bucket Liners
Stop paint laden water pollution.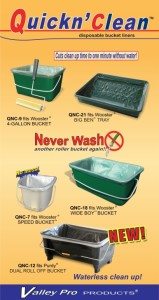 Valley Pro Products as a company has been painting and installing wallpaper in the Shenandoah Valley for over twenty-five years. As professionals they understand the value of the "right tool for the right job." To this end they've developed a new product line of disposable paint bucket and tray liners.
Cleaning roller buckets using traditional methods is time consuming, messy and allows paint laden water to enter the "waste stream." Their liners save on costly clean up by creating a barrier between the surface of the roller bucket and the paint.
Designed to cling when properly loaded, the liner forms a tight vacuum seal against the interior walls of the roller bucket. After the project is finished the liner is simply pulled from the bucket and the leftover paint is squeezed back into its original container.
Their Eco-Friendly liners cut clean-up time to just one minute without water while keeping paint laden water out of the drain. They save on costly solvent clean up and limit water and ground pollution caused by traditional cleaning methods.
Liners are specially made to fit the Wooster® and Purdy® line of roller buckets . They are available online at www.valleyproproducts.com or may be purchased through independent paint dealers.