What are call only ads on Google?
While the answer to this question seems self explanatory, there are key distinctions between call only ads on Google and text ads with call extensions.
Checkout this picture of the Google search results for a mobile search on an iPhone for the keywords: Baltimore Commercial Painting Contractor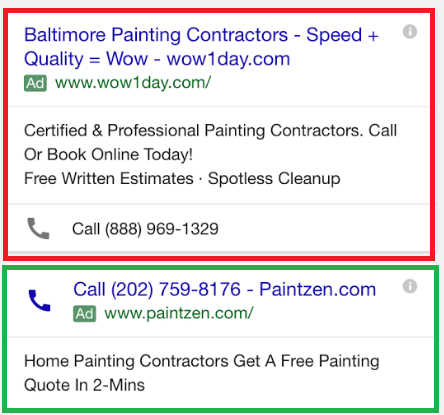 The "red ad" is a standard text ad with a call extension. A click on the blue text will direct users to the advertisers landing page or website for this specific ad. The phone number, which appears the bottom of the ad in gray is a call extension. Clicking on the phone number will launch a call to advertiser.
The "green ad" is a call only ad. A click on this ad launches a phone call right to the advertisers business and does not redirect to a landing page.
Why should painters use call only ads on Google?
Call only ads on Google can eliminate two of the major challenges of a traditional PPC campaign. First, call only ads eliminate the need for a great landing page or website. Painters with below average websites can still take advantage of all the leads that flow to local contractors through Google search.
Second, call only ads on Google can generate more affordable leads than traditional PPC. Assume it costs $10 per click for the keywords "local house painter" on Google. For $100 you get 10 visits to your website. A 20% conversion rate (which is off the charts good) would mean 2 leads for $50 each. Assume a call only ad click costs $25 for the same keywords. Now your $100 results in 4 leads for $25 each.
How can my painting business set up call only ads on Google?
The process for setting up call only ads on Google can be challenging. It requires an active Google AdWords account with a linked and verified phone number. Additionally, the nuances of writing call only ads are different from text ads because they are trying to generate direct phone calls, not website clicks. Before launching your campaign, consider these 5 strategies for effective call only ads on Google.
There is also a Google help tutorial on the topic or the team at AltaVista Strategic Partners is available to help. They can be reached by phone at 443-960-4004 or by sending them an email to set up a no cost initial consultation.
Have a question or comment?
Post it in the comments below and we will be sure to follow up with you!