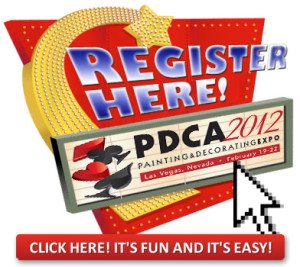 Feb 19th to 22nd, Las Vegas is going to be even more colorful than usual. The PDCA Expo 2012 is being held at Planet Hollywood and it promises to be a huge event. If you are a paint contractor or involved in the painting industry, it really shouldn't be a hard thing to convince your significant other that a few days in Sin City in February is a must, but here is why attending the PDCA Expo is good for more than just your itchy slot machine arm.
Education and Information
Need to get RRP Certified? Looking for the latest on SEO or marketing strategies? The Expo is full of classes, seminars and other resources to build your skill set, improve your business and become certified. I am looking forward to sitting in on Todd Heskett of Advise Media Group'sseminar on SEO: The Good, the Bad & the Ugly. Hmmm, I wonder if I will agree with him?
PDCA's estimating guru, Bob Cusumano of Coatings Consultants is putting on a seminar about profits that I am guessing will have a full house. Debbie Zimmer from the PQI will share how you can create trade alliances.
Brandt Domas, of  Work Systems and a long time leader and advocate of the industry will be presenting a contractor panel sharing how each panelist's company resolved various challenges they faced in the past year. Don't miss this insightful sharing of information by your fellow commercial contractor members. There is either a seminar or course for everything you want regarding painting and running a successful business.
Networking
Not everything that happens in Vegas, stays in Vegas. The benefits of networking follow you home. In the last year, I stretched my arms and began talking and networking with other painters and industry folks in cities across North America and the effects on our business have been enormous. I learn more about business practices, new products, business solutions and painting techniques than I ever thought possible. It has been one of the most effective ways we have improved our business and not only that, I have made some phenomenal friends.
Networking
Did I mention networking? It is that important. There is simply no better resource for a business than other similar businesses. It is unlikely you are sitting down with your local competitors and comparing notes and business strategies. The PDCA Expo allows you to meet other similar businesses.
Cool Stuff
Have you seen the new Festool extractors? What about Benjamin Moore's new Color Stories? The tradeshow expo is the perfect place to test drive and discover all of the latest in painting technologies, products and equipment. And I guarantee the loot bag you will take home will make up for your losses at the roulette table. Scott Burt of American Painting Contractor magazine will be sitting in at a manufacturer booth or two, while Emily Howard and the rest of the APC staff are expected to be circulating as well.
The Blogging Painters team will all be at the expo this year. We will be talking to other writers, paint company owners and companies in the painting industry. It is giving us the opportunity to come together as a group and discuss ways to improve the painting industry and help other companies with their blogs and online strategies. You see, events like the PDCA Expo aren't just good for your business, they are good for our entire industry. Collaborations happen, product developments and improvements are discussed and opportunities arise that don't happen unless you get this variety of of experience and skill sets together.
Will we see you there?