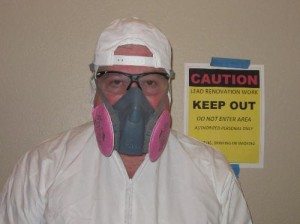 In part one, we learned that if read and understood the actual law, in many cases, compliance cost would be less than 10% and this little of increase probably wouldn't hurt sales.  In part two, we found that if compliance cost were going to be over 10%, an alternative would be to have a lead inspection done.  Interestingly, you will find that many projects won't have lead based paint and you won't even have to do RRP.
Part three is where compliance cost are over 10% and the lead test showed your project has lead based paint.  A prime example of a job would be exterior painting.
Pressure washing is impracticable, since you have to collect all the water and filter it through a HEPA filter before disposing of the water.  Hand washing is a consideration, but it will add $$$ to the project.
If a neighboring property is within 10 feet of where you are working, you also will need to build a vertical containment system.
Plus, you have the additional cost of putting out plastic on the ground and taking the other compliance steps.
Additional compliance cost can easy increase your normal estimate as much as 40% to 50%.  No doubt, selling RRP projects with these additional costs can be trying.  However, it isn't impossible and certainly worth a shot.
In Part One, you kept RRP quiet … in Part Three, you go into great detail about the dangers and legal aspects of RRP.  It's also interesting that once a homeowner hears they have lead based paint, their mindset changes.  They become more concerned than they were before.  Knowing is a lot different than not knowing and this change of mindset may be all it takes to sell the job.  In fact, my first response is; "Whew"!  "Good thing we checked, because you have a high concentration of lead in your paint".
Certain clients will be interested in using you, simply because you are legal and will keep them legal.  Around the nation, neighbors are suing the project homeowner for spreading toxic lead dust, because the property owner used an illegal contractor.  Plus, if the homeowner uses an illegal contractor, they will need to disclose this at the future sale of the home.  Not only are you doing the right thing, your helping to protect the homeowner.
Other clients can also be interested.  Customers who are "Green" and environmentally concerned will most likely be interested.  Homeowners who have children or within the child barring age will also have concerns.  You may need to go deeper into RRP and the "whys", but your success rate should be higher than other groups.
After I explain all the facts (including describing the different precautions I will be taking), then I remind them that they are free to use an illegal contractor (as mentioned in Part Two, differing site conditions).  In many cases, they don't want to use an illegal contractor, spread dust to neighbors or do anything that may come back and haunt them when they eventually sell their home.
Note:  In my mind, I'm not coming in as an everyday painting contractor.  I am coming to the job as a specialist, so I want to get paid as a specialist.  I usually add 50% or more to my normal prices.  This way, if I get the job … I will get paid good money for doing this type of work.