I just returned from the PDCA Residential Forum's Advanced Shop Talk 13 in the Windy City. It is inspiring to hang out with such an engaged group of business owners who are committed to building a better painting business. Many of the painting contractors in attendance brought key employees as well. What an excellent opportunity to help team members to see the bigger picture and hear ideas from other companies who face the same challenges.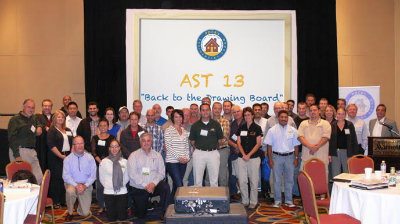 I have been privileged to be able to attend 11 AST (short hand lingo for Advanced Shop Talk) events. I have not missed one since I started attending in 2002. I've found that the painting industry is populated with a lot of very nice people who are willing to share solutions with each other and give each other a hand up to run a better business. These are the kind of painting contractors who attend AST.
This year's event was focused around the theme "Back to the Drawing Board", with discussions and presentations centered around getting better and more intentional about how you run your painting business. Many of the presentations were put on by members of the Residential Forum and included such topics as CRM (Customer Relationship Management) Software Review, Crew Leader Training, Encouraging Employee Accountability, Success Tips for Direct Mail Marketing, and my own Exit Strategies for small businesses.
I always appreciate panel discussions, and this year's panel discussion focused on Scheduling and Productivity. I applaud the generosity of the contractors who sit on the panel and share their experiences, not only the things they are doing well, but the things that challenge them. A Hot Topics Q&A and a Role Play Exercise rounded out the program.
In addition to Beth McDaniel, who represented PDCA National, quite a few vendors also support, attend and participate in the program. All are valuable contributors and two of the vendors, Sherwin Williams and Benjamin Moore sponsored the Welcome Party and Networking Reception at nice venues with good eats!
The roundtable format of AST is very conducive to deepening the discussion from each of the presented topics, allowing members to share ideas and formulate action steps for their own businesses when they return home.
Remember those nice people I was talking about? The side benefit of attending AST is the friendships that develop between attendees.
As a business coach who works with the painting industry, when I first meet a painting contractor, I always ask them two questions. "Are you a member of PDCA?" and "Are you a member of the Residential Forum?" If their answer is "No", my reply is "You should be. It's the best investment you can make for your painting business".
I'll be at next year's AST. Hope to see you there too!