Every local digital marketing campaign requires a unique strategy. However, there are consistent "pillars" that together can work to help your local painting business increase online visibility, traffic, and sales. In this two-part post, I'm going to discuss what they are and why they matter.
Pillar #1: Research
Using the right tools and research methods can help you uncover gaps and insights that can guide your digital strategy. Every campaign needs to start with competitor and customer research.
Competitor Research
Understanding what is working well for your local competitors can save you time and money. For competitive research you'll want to look closely at the following:
What online channels are they active on?
What keywords are driving traffic? If they are running a Google AdWords campaign, how much are they spending and what keyword are they bidding on?
Where are they getting their links? Are they active on social media? If so, what channels? How frequently are they publishing and what type of engagement are they getting?
How frequently are they publishing new blog content?
Whew, that's a lot of questions! However, finding the answers can help you better know where to spend your valuable time and marketing budget.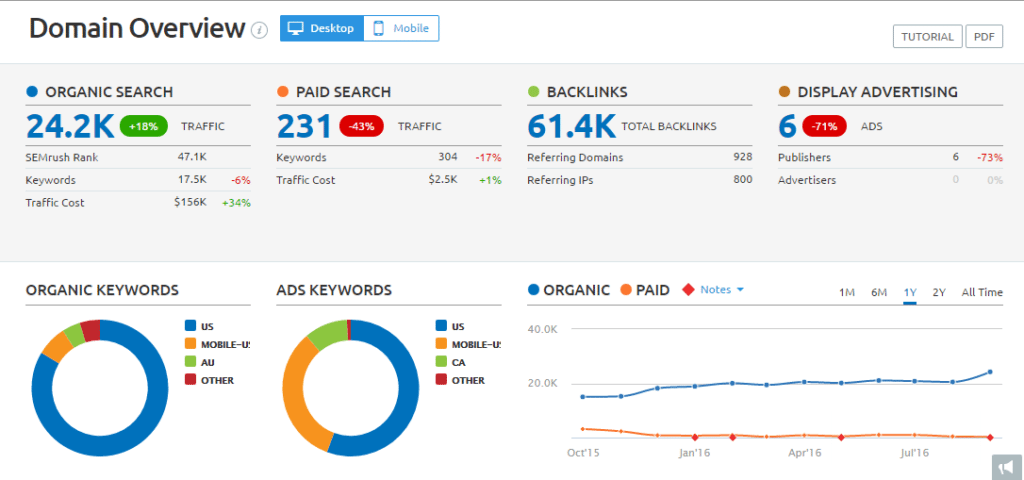 Customer Research
Now that we have competitor data, it's time to flesh out the pain points, motivations, and FAQs of your own target audience. You already have a good sense of who your potential customers are, so now apply that information online. Start by answering these questions:
What are people searching for?
Keyword and question research will help set the foundation for a successful campaign as they provide insight into the queries customers are using to find the products or services your business offers.

What Are the Most Frequently Asked Questions?
Meet with your sales team and brainstorm a list of frequently asked questions and then evaluate if you're resolving them in your website's page copy, landing pages, meta descriptions, and blog posts.
This is also a good time to discuss your customer's pain points and motivations. For example, is cost, resale value, appearance, guarantees, or even the professionalism of your team questions that frequently surface during estimates or sales calls?
What Feedback Are People Leaving in Reviews?
Looking at your competitor's online reviews can provide you with insight into what their customers liked or disliked about their experience.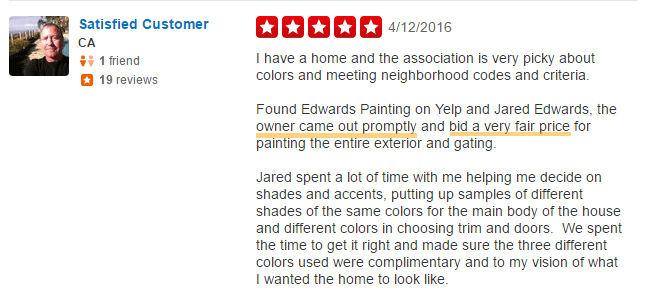 Use this feedback to guide your own internal processes and to refine your messaging.
Pillar # 2: Optimization
For local businesses, it's very important to send clear, concise signals to search engines that help inform who you are, what you do, and the areas you serve.
While there are over 200+ factors that Google incorporates into its ranking algorithm, here are a few optimization elements that are essential to succeeding in local search.
Structured Data
LocalBusiness markup helps send additional clues to search engines about your industry, company name, website, social profiles etc.
Below is a screenshot of a client's homepage using Google's Structured Data Testing Tool: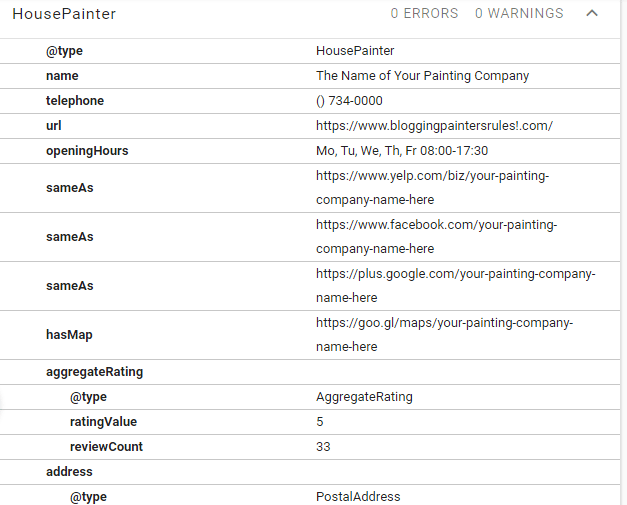 Using this tool, what schema types are your painting company utilizing?

Social Profile Optimization
Make sure all of your social profiles accurately represent your business. This includes adding your name, address and phone number (NAP), the services you offer, the areas you serve and your website's URL.
This includes Facebook, Yelp, Google My Business, Houzz, LinkedIn, YouTube, Chamber of Commerce, and any other profile you've established or are active on.
Citations
Citations can be defined as mentions of your NAP on 3rd party websites. Citations are a heavily weighted component of local ranking algorithms, so having your business' information accurately listed across the web is vital.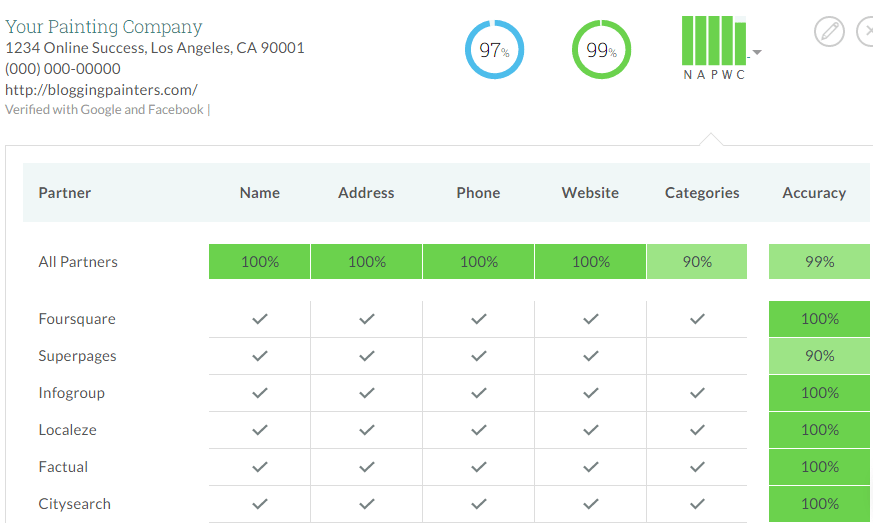 Service Area Specific Landing Pages
Because distance is a primary Google local ranking factor (how far away your office is from the person that's searching), it may be necessary to create a few robust service area specific landing pages.
By robust, I would suggest adding city specific project photos, reviews from customers in the city you're targeting, and page copy that's unique for this audience. Let your keyword research guide the optimization of these pages.
For more information, I'd recommend checking out this resource on building effective city pages for local SEO.
On-page Optimization
As mentioned earlier, it's important to send strong clues to search engines about what you do and the areas you serve. A few tips include:
Titles tags – use primary keyword, city and your business name
Heading tags – make sure you're including a variation of your target keyword
Alt attributes – send additional signals by adding alt attributes to your images that are descriptive and specific
List a few of your top service areas on every page e.g. "We proudly serve city1, city2, city3, etc."
Internal linking – provide additional crawler access points, strengthen relevancy through anchor text, distribute link equity, and help search engines understand what you consider to be the most important pages on your website by linking to them from other pages and posts on your website
While I consider these to be some of the most heavily weighted on-page optimization factors for local businesses, I'm only scratching the surface. For a comprehensive guide on optimization for local seo, read this comprehensive guide on Whitespark.
Up Next …
Stay tuned for part two of this post where I'm going to cover reviews, tracking and more.
If you have questions, feel free to shoot me an email or drop them in the comments below!