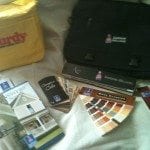 Rob and I recently attended a seminar sponsored by Sherwin Williams in Las Vegas. Rob and I both agreed that this was one of the best seminars we have attended in years, especially for a husband/wife team. It had a balance of product, business and marketing topics that kept us both interested.
The seminar opened with representatives from Sherwin Williams giving an overview of the materials used in paint, the basics of pigments, solvents and additives and a lot more information on the hows and whys of paint. The rep in charge of the VOC Paints in Southern California and Maricopa Counties (the most regulated areas) explained more about O and Low VOC Paints. They gave us a hard copy of the powerpoint slides in the notes form, and I have a ton of notes to refer to!
Mike was next and he discussed the Purdy products, Rob has used and loved Purdy's for many years, he still misses the old putty knives! Rob just did a blog on the new Purdy roller and was able to discuss the problems he had using it and Mike said he would look into it. (JP, I sent him your name too!) It was interesting to hear about the different types of rollers (don't use sheepskin rollers with Low VOC Paint) and brushes, I never did understand the differences, and I can understand a little better now why Rob has such a huge brush fetish!
The next speaker was Robert Cusumano, I have read his articles in DECO, and he is the author of the PDCA Estimating Guide. I could fill a whole blog just on him! Rob finally understood why I am always after him and the crew to get production rates! And don't forget those adhesion tests! Sherwin Williams and the PDCA offer attendees to this seminar a 6 month trial, I will be using that, the only reason I have not joined is because there is no active chapter in my area. I refer to the PDCA Standards often and am a member of their forum, but I do believe there are enough benefits to make it a worthy investment. You can be sure you will be hearing more about that from me!
Lunch was very nice, met some local painters that have some of the same concerns and issues we do. One of the guys actually recognized me from a recent magazine article I did, Rob said if asked for my autograph, he was leaving!
After lunch, there was a session on common paint failures and we were each given a book that had great pictures, descriptions and solutions by The Paint Quality Institute. These will be very handy to use on site visits.
The SW reps were back up to present marketing and business practices, some great information there. They also talked about the use of Social Media, and you know I had a few comments! Rob had to stretch his legs so he walked around the casino during that session, he put $5 in a Jeopardy machine thinking it was a nickle machine, nope, it wasn't! When he won and it said 100 credits, he did not think much of it until he cashed out and the ticket said $500.00!
The conversation continued on building and branding your business, using Green Practices, Advertising, using the Painter's Advantage to order marketing material, attend webinars and even have your website created. There was discussions on using the Color Snap Phone App, the Visualizer and the other color tools available. They gave us a folder that is perfect to leave behind with the customer, it has a place for your info and the materials used on the project.
All in all, it was a lot of information presented at a good pace, with plenty of handouts provided for later use. Sherwin Williams has been our go to paint for many years, because of the great products, but more importantly, the tremendous service and support we get from our local store. Relationships like this can be a great asset to any company for a variety of reasons, and I encourage you to build a rapport with your paint store, whether it is Sherwin Williams, another chain or a small independent store.
[simpleviewer gallery_id="1″]