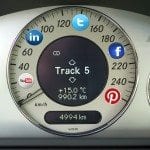 Social media marketing got you down? Save time and energy using a social media marketing dashboard.
Does your social media marketing plan leave you exhausted and take too much time?  All that liking, sharing, tweeting,  pinning, and jumping from app to app leave you with little time for other tasks?  By now we know that social media marketing is an important element in our marketing mix as a way to reach and connect with current and potential customers plus others in your industry. Those of us who use several social media platforms for business can appreciate how time consuming and often demanding staying on top of it can be.  But what are social media management dashboards and how can they help manage multiple accounts and time more effectively?
What are social media management dashboards?
Keeping up with social media can be a daunting task when posting to multiple social media accounts.  Using social media dashboards can help by having all your accounts in one area for easier viewing with the ability to post and plan future post updates quickly. Within a dashboard you will be able to view your "streams"; these are all your social media platforms.  You can see the activity and interact without opening multiple windows with your individual account logins.  "Publisher" is an area of the dashboard that you will write your post updates, shorten links, pull images into your post, and choose the social media platforms you want the information sent to.  Best of all, you can schedule in advance the date and time for your posts to publish!
Other features within the dashboard may include analytics and report building, the ability to publish RSS feed to one or more platforms automatically, contacts, app directory and more.  Features will vary depending on the company you choose.
Social Media Management Dashboards and Why I Love Them!
Social media management dashboards enable a user to connect their social media account within a dashboard and be able to post, schedule future posts, shorten links and see data all in one location.  If you have many social media platforms this tool can save you lots of time.  Many platforms have free services which may be enough for some people.  All platforms have multiple levels of account functions for varying prices depending on your needs.  I use the free version of Hootsuite and find it is enough for my needs.  There is very limited analytical data in the free version, but I can pull the analytics I want for my clients from other sources.  This article gives a list of other dashboards you may wish to look into before choosing one.
 Some Final Thoughts.
It is important to give some thought to the content you publish and the platform.  Something you post on Facebook might not be a good choice for your LinkedIn account.  Lately, I have been noticing many people, with the intent to get noticed, publishing the same content to all their social media sites often multiple times a day.  This tactic appears "spammy" and can quickly backfire causing people to stop following you.
It is very important to think about your goals and the type of social media platform before sending out information.  Sharing consistently useful and relevant information in the right venue will get you noticed.
Scheduling posts is my favorite feature of the dashboard (and its main purpose).  This feature allows me to work in advance on a client's account.  Plus, I am able to share great content even when I'm unavailable to post manually (weekends or while on vacation).  I know people who take their laptops on vacation and place client posts daily because they have not yet embraced the benefits of using a social media management dashboard.  I have encountered occasional problems where a post did not pull to the platforms or an image did not pull through.  Though, those issues have seldom occurred for me and do not seem critical enough to abandon such a useful tool.
So visit some social media management dashboard websites and determine which dashboard may be right for you.  Give the free version a try first, you can always upgrade later.
Do you use a social media management dashboard?  What are the biggest advantages/disadvantages you have found when using a social media management dashboard?  Share with us in the comments section below.