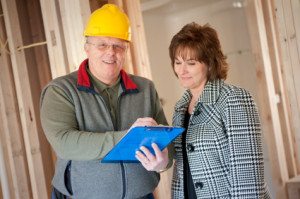 Ask for references. This is very important as it shows if their past clients were happy with the work performed, and the overall customer experience. Any professional painting contractor should be able to provide plenty of references. I would suggest getting and contacting at least three. Below are six examples of questions you should be prepared to ask when you make contact.
Would you use this contractor again?
Was the original bid the same as the total amount due, considering no changes were made?
Were they punctual, and complete the job in the time they said they would
Did the crew clean up every day as well as at the end of the job?
Could you reach the contractor if there was a problem?
Was the contractor courteous and professional?
Get a bid in writing and go over it thoroughly with the contractor. Not all bids are created equal. Some contractors exclude some costs and later charge these to you as extras. Find out exactly what the bid includes, a thorough bid with everything covered is what you are looking for. The more information provided here the better for both parties. The materials used can be a big difference in cost to the contractor, and many will purchase cheaper materials to be competitive on their bid. Remember to not get caught up on the price, you have to ensure you are comparing the same scope of work. Apples to apples if you will. Paint costs can range from $10 a gallon to almost $60. With a medium sized job requiring 50 gallons that could be a difference of $2500 on the quality of paint alone.
What prep work is included? Caulking, wall repairs, and filling nail holes, are the general steps you should see. Will surfaces be sanded? Will new wood be primed and sealed? All things that should be included in a detailed proposal. Prep work is what makes a finish look great, and last many years. It is also very labor intensive and therefore time consuming. Some contractors try and skip these steps to save money, again changing the bid price dramatically.
How much will you be charged if the contractor encounters unforeseen problems? For example, removing wallpaper not installed correctly can cause damage to sheet rock. What might those charges run? Ask if they charge an hourly rate for extra work. Every successful painting contractor knows what their hourly costs are, and what they need to charge to make a profit. This should be given without hesitation when asked for. If they don't know the answer to this simple question, chances are they haven't been in business long, and most likely won't be if you have a warranty claim to make.
Warranties. Does the contractor offer one? How long is the paint chosen guaranteed? What are the conditions of both? Find out if any of these apply, and get ensure they are in the contract. Find out when the contractors workers will be there, and if conflicting schedules can be worked around.
Make sure the contract is signed before any work begins. Go over the contract to make sure it matches the bid you agreed on, if necessary have your lawyer look it over. Changes need to be made before it is signed.
Find out the payment schedule, or draws as they are called by professionals. Most painting contractors want 1/3 down, 1/3 when the job is half-way completed, and the final payment when the job is done.  If this payment schedule is followed it protects both you the consumer, and the contractor. If you are hesitant to pay percentage down, consider that the painter is supplying materials most likely including custom tinted paint that is not returnable.
In closing I would like to add, you must feel comfortable hiring a house painter. You are inviting them into your home or property so for peace of mind ensure there is a trust first. Knowing you can depend on a qualified professional helps ensure a successful project.
JHC has been serving the Wilmington NC area offering house painting services, and have many satisfied clients.