I often get asked by contractors where they can find blog content ideas to share with their readers .
The truth is, ideas for finding great blog content are more abundant than ever, but you must dedicate a little time each week looking for them.
From there, you take an idea you've seen online and use it as a launching point – to make it your own.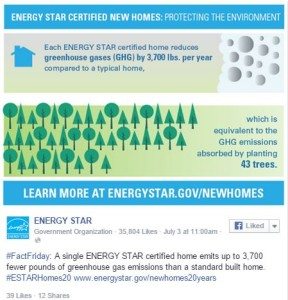 For example, I was browsing my Facebook feed over the weekend and saw this post from Energy Star® and thought to myself, "This is a perfect basis for an article for [insert client name]."
#FactFriday: A single ENERGY STAR certified home emits up to 3,700 fewer pounds of greenhouse gas emissions than a standard built home. #ESTARHomes20 www.energystar.gov/newhomes20years

Posted by ENERGY STAR on Friday, July 3, 2015
Where to Find Blog Content.
Here are a few places where you can find blog content ideas:
Read industry publications regularly and make notes when you see something that you think your readers would be interested in.
Browse your association publications: they are often an excellent resource for material that your customers/readers should know about, such as lead paint regulations or code changes that could affect their projects.
Watch for annual industry announcements, such as the Houzz & Home Survey, the Remodeling Cost vs. Value Report, or design trends and/or paint colors of the year.
Answer questions you are frequently asked. Ideas are often a product of a conversation you've had with a customer, prospect or friend. For example, one of my interior designer clients talked her sister into painting the ceiling neutral (not white). The sister loved it and that became a blog article.
Share information and tools that will inspire your audience and perhaps even spur them to take action, like this ColorSnap Studio – a new, free app.
Keep Content Ideas Organized.
Perhaps even more difficult than answering the question, "Where to find blog content?" is keeping the ideas you do find organized. My advice is to pick a method and stick to it.
Sticky Note – One online personality I have followed for years confessed to writing his newsletter ideas on Post-it® Notes (one idea per note) and stacking them on top of each other. Every time he needed a topic, he simply shuffled through the pile of ideas until he found one that struck him.
Old School – Every time you have an idea, write it down on a piece of paper, sketching out the talking points, and immediately file it into a dedicated file folder (this is my method). Additionally, if you see something interesting online (or get an email from a customer asking a question that you answered), you can print and file it.
Technology – There are plenty of tech-tools to keep your ideas organized and easily accessible. Evernote and OneNote are two that are often used. Another variation is to start a Word or Google doc for every idea you get and have a dedicated file folder on your computer where you can store those ideas. This is a "greener" method.
That you have a method to keep your ideas organized in one place is all that matters. That way, you know where to turn when you need a great content idea.
I challenge you to be a bit more observant when you are reading information or surfing the net. I bet you'll discover plenty of ideas to share with your readers.
If you are looking for blog ideas, download my free e-book, "52 Ideas for Residential Contractors." It is designed to help construction professionals answer the question, "What do I write about?" Get it here >>>