Many bloggers know how wonderful the WordPress platform is. It really makes publishing your blog easy, and there are plug ins for almost every need available. There is however one gripe I have, and that is writing inside WordPress.
I just feel so confined, especially when writing on a smaller screen like on a laptop. My grandmother had a saying that came to mind when I was thinking about writing this article. She would comment about a small space like a house, or a room and say its so small you couldn't cuss a cat in there. You would have to hold it out the window. I know that probably doesn't make any sense to anyone, but it made me laugh when thinking about how it relates to WordPress posting.
Well today I have finally found a solution that works very well. Windows Live Writer. This is completely free software that is part of the Windows Live Essentials 2011 suite. You can install all the suite or pick and choose what you want. You also have the option of installing only writer directly here. There are also a ton of nice plugins to choose from as well, that make it a very robust tool.
To get it to work with your WP blog you have to enable XML-RPC publishing in your control panel under settings-writing.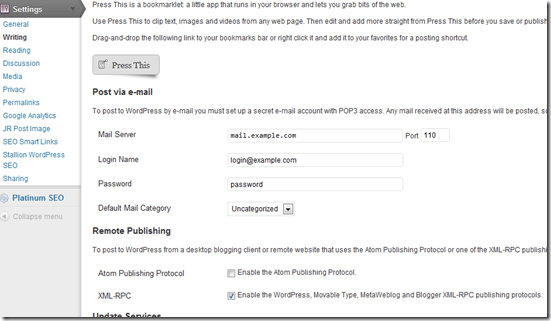 So many thoughtful things are included in this tool, just like the embedded links above. When you go to insert them writer chooses what is in your clipboard and uses that. You also have the option to set the link to open in a new tab, and auto linking for multiple hyperlinks.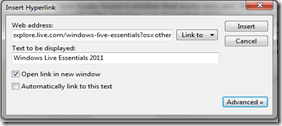 Probably everyone who blogs is familiar with MS office, especially word. You will be right at home with writer, and it uses the same ribbon interface introduced in Office 2007. You can embed pictures and video with two clicks, easily change all the font settings, and it has a wonderful spell checker with autocorrect. For me that is a must, my spelling is horrible.

You can manage multiple sites and easily switch between them in the bar above. You have options to post as a draft or publish directly to your blog. I have yet to find the robust SEO plugins that are available for WP. I think posting a draft, and then going into your WP dashboard and using the plugins you have there is the best option. I have to admit this beats writing everything in word, and doing a copy paste into WP.
Give writer a shot, and let me know what you think. I also welcome any tips you may have for those who have been using it, and you fast learners out there.