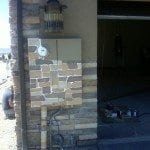 I recently did a new construction home and tried my hand at some Decorative Finishes, my wife and business partner Chris wrote about the interior work we did here. As the project drew to an end, the owners asked me if I could do something about the ugly electrical panel that for some odd reason was placed at a focal point as you entered the driveway. It really stood out like a sore thumb on the finished home. I figured I could experiment a little. It's only paint right?
The first thing I did was take some of the leftover manufactured rock used to side the home to Kenny at my local Sherwin Williams, that guy can match anything! I dumped a bucket of  rocks off and came back the next day to pick up 6 quarts of paint in different colors.
The first thing I did was prime it, then I traced the shapes using some some of the scrap pieces, in hindsight, I would have drawn some lines using a level. After I had the shapes drawn I started randomly filling in squares with the assorted colors. Then I used the paint that had been matched to the grout to freehand the grout lines. I used some Old Masters Gel I had on hand to add some shadowing. I'll go back one more time after the landscaping is done and the home washed to try and soften it a little and add a sealer, but I think it turned it ok and it was a fun project!
[simpleviewer gallery_id="6″]