Blogging is terrific for paint contracting websites. Right off the bat, you'll get favorable treatment on Google for SEO versus your non-blogging competitors, with all other things being equal.

But the most common problem with sustaining a blog is running out of things to write about.
If you are struggling to come up with blogging ideas as fresh as a newly painted room, here are seven suggestions to re-energize your writing. (Part of an Internet marketing services company, I offer ideas that hopefully appeal to search engines as well as human readers.)
1. Before-and-After Images
Posting before-and-after photos of a recently completed project are a natural for residential and commercial paint contractors. First, posting photos with minimal commentary is effective, and doesn't require a ton of writing. Second, showing off your work builds credibility; visitors who see these posts will be inclined to hire you. Third, these posts are useful to readers because they provide decorating ideas. Useful posts bring readers back for more. Also, image-heavy posts are all the more powerful for mobile blog visitors, who probably make up a large percentage of your traffic.
2. DIY Painting Tips
Writing instructions about how homeowners can do it themselves may seem counterintuitive for paint contractors interested in being hired. Nevertheless, DIY tips on painting are in high demand — if they offer useful tips and are SEO-friendly, they can attract a lot of readers. And, when DIYers runs into a paint project too big for them to handle, which paint contractor are they going to think of? You!
3. General Home Improvement Tips
Expand the DIY theme to include tips related to painting. Specific topics could include how to select a new roof, how to hang curtains, pros and cons of various carpeting materials, etc. These topics enable you to reach an even larger DIY audience. In addition, you may be able to get roof, curtain and carpeting websites/blogs to link to these posts — exposing your business to even more readers and getting backlinks to your site that boost SEO in a big way.
4. Home Decorating Tips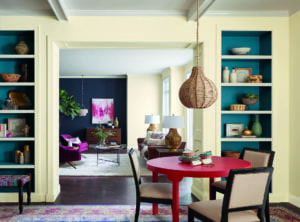 What color paint goes best with various floor colors? How can you tell what a paint color will look like in a room, not just on a swatch? What paint colors are in? What colors are out? Homeowners and commercial property managers/office managers are interested in topics like these, topics of which paint contractors are experts. Covering home decorating broadens your reach into an even larger audience than DIY, and is yet completely relevant to your business. (Incidentally, all of these "tips" suggestions can be short — 200-400 words or even less — because they can hit specific issues. This adds up to less writing and more posts.)
5. Case Studies
People love stories. What is the hardest project you ever pulled off? What project were you most proud of? What project involved your most creative approach? Posts on topics like these hold reader attention and build credibility. You can also repurpose them when you run into opportunities for projects involving similar issues. All in all, case study posts can help you make sales more effectively than any other type of post.
6. Painting Product Reviews
What is the highest-quality outdoor paint? Indoor paint? Why are they the best? What's the best brush, paint masking tape, scraper, ladder, etc? These posts touch on DIY, decorating, and in addition, involve search terms that a lot of people use on Google. So, in addition to attracting readers interested your valuable product insights, you can also score points with your suppliers by talking up their products.
7. Customer Reviews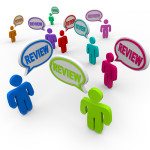 At the end of a successful project, invite your customers to write a brief (3-4 sentences) review of their experience with your company. You can post these reviews on your blog (one review per post, or in batches), and add them to an appropriate page(s) on your main website. Positive user reviews naturally increase credibility for commercial and residential contractors alike, and also stimulate referrals — customers will be eager to show their reviews to friends, neighbors and business associates after they are published.
If you think about specific topics in each of these areas, you probably will be able to come up with enough spot-on topics to keep your blog in motion for a year. The best blogs are ones that publish regularly, so a great first step from here is to write out a calendar of topics 3-4 months out, so you can then spend less time thinking of topics and more time writing … and, of course, painting.
Author Bio: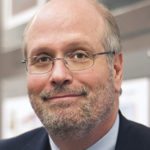 Brad Shorr is Director of Content Strategy at Straight North, an Internet marketing agency in Chicago that offers SEO, PPC and web design services. With more than 25 years of sales and marketing experience, Brad has been featured in leading online publications including Smashing Magazine, American Marketing Association and Moz.