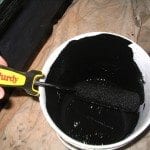 As a painter for over thirty years,  I have used just about every type of brush and roller out there. I have always felt an experienced painter can do a job well with just about any tool. The difference is how much easier, enjoyable and productive a particular tool can make a given task.
So when Purdy sent me a box containing an assortment of hand tools, I was eager to try them out. The first two I tried were the Jumbo Mini Roller and the Purdy 2 1/2 " Nylon Sash Brush. I had a black wooden door to paint.
The brush, like other Purdy's I have used, did not let me down. I was able to cut a crisp line with ease, the bristles stayed sharp and clean. It just feels good in my hand.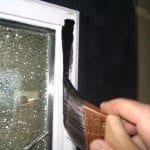 My local Sherwin Williams has always stocked Purdy Rollers for my old weenie roller, they have always been my preferred choice.  When I got the Purdy Mini Roller in the mail, I was eager to try it. I had tried the Woosters and liked them.
The roller was smooth and held more paint, I like using a mini roller in bathrooms, so this was good. I think this is a great roller for doing doors and small areas. The only drawback I saw was that the paint loaded up on the plastic part and was hard to get out of the internal parts without disassembling the unit.
It did not fit on my older poles without the adaptor, but I saw a new Purdy Pole when I was at Sherwin Williams and the gift card that I won was in my pocket, so you can guess what I did!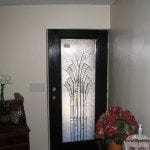 All in all, I am very pleased with Purdy. Thank you Purdy!