Display ads are a great way for painting contractors to boost their brand awareness and drive more online leads. They are very affordable, easy to set up, and the argument can be made that every contractor needs to be using retargeted display ads.
For painting contractors already using display or retargeted ads, or considering setting up a display ad campaign, here are 3 tips to make sure your ads are optimized to capture clicks and drive online leads.
3 Tips For Better Display Ads
Take a less is more approach with images and copy
Due to the amount of activity on the typical website, the best display ads make a clear concise offer and present a strong call to action. Images need to be clutter free, high resolution, and especially relevant to the intended audience.
Make sure your display ads include a strong call to action (CTA)
CTA should distinguish itself from the rest of the ad. Try highlighting it in a different color text or put it in a box or shape to create the appearance of a button. Great CTA's for a painting display ad would include:
Free Painting Estimates
Start Your Painting Project
Speak To An Expert
Get Your Free Quote
Include an offer, discount, or promotion in your ad
Nothing is more likely to entice a click on a display ad than a great offer or exclusive discount. For a residential painter this could be a discount offer such as "$500 Off Exterior Home Repaints" or "15% Off Home Painting Services".
How does this all come together in an actual ad?
Combining these 3 tips, here is an example of a basic 300 x 250 display ad. This ad would typically appear on the sidebar of a website to the left or right of the main content. You can see other examples of these ads right here on Blogging Painters to the left of this article!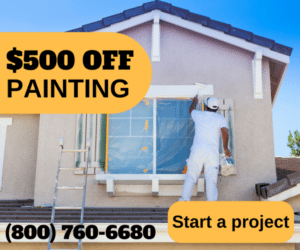 Need help setting up a display advertising or retargeting campaign for your painting business? Contact the contractor marketing experts at AltaVista Strategic Partners for a free consultation by phone at 443-960-4004 or by sending them an email.
Have a question or comment?
Post it in the comments below and we will be sure to follow up with you!