Yelp. Google Reviews. Angie's List. Ugh.

Doesn't it seem like everybody always has something to complain about?
Studies have shown that, unfortunately, people are more likely to write a review of a negative experience than a positive one. So even if only one out of twenty jobs leaves a customer feeling unsatisfied, you might find that only that one negative experience ends up out in the world for everyone to see. We'd all like the opportunity to address our customer's concerns one-on-one, but that doesn't always happen. It's frustrating to find out that you've lost business because someone has posted a negative review online. Plus, let's be honest, it hurts to hear that someone is saying nasty things about you, your employees, and the way you make a living.

The best way to resolve an issue with reputation is to not let it get to the internet. Although this isn't always possible, most people just want to be heard and feel like they're being treated fairly. If a customer calls to complain, take the call and listen attentively and with a sympathetic ear. One of my colleagues has a great series of posts covering how to deal with unsatisfied customers at Field Nimble that I recommend you check out. But what if a customer doesn't engage directly and jumps right to negative reviewing online?
What you can't afford to do is bury your head in the sand and hope the reviews will go away.
Whether you like it or not, nearly 70% of potential customers now look for reviews online and an even higher percentage say they trust online reviews. In order to maintain your reputation, you need to be engaged online.

It's crucial that you respond to EVERY online review. Everyone loves feeling appreciated and responding to a positive review shows the customer that you care about their satisfaction beyond completing the job. When a review is negative, be courteous, make it clear that you are sorry that the customer was unsatisfied and publicly ask for the opportunity to talk in private and see how you can make it right. If you resolve the issue, ask the customer if they'd be willing to remove the negative review or post a follow-up indicating that you've satisfied their complaint.
If you can't persuade a customer to come around and clean-up a negative review, the best option is to make sure you have enough positive reviews to drown out one voice. This means actively engaging customers for review. One of the simplest ways to do this is to make sure you get your customer's email as part of the process.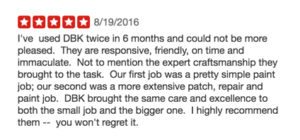 First, incentivize your employees based on customer reviews. Reviews are incredibly important, so having a monthly award for the worker who gets the most reviews is money well spent. When your worker is at a customer's home, have them tell the customer that the company is going to send out a VERY SHORT email survey about the quality of the experience. Have your employee personally ask them to fill it out. People are more likely to do something for an individual than for a company, so be sure to train your people to let customers know that the employee's performance is graded on the review. In the email, put a direct link to your page on a referral review site like Angie's list, Yelp, or Google.
It's important to not focus only on negative reviews. When customers praise your service, thank them and let them know you appreciate their business. Showing other potential customers that you are engaged and grateful for business is as important as demonstrating that you are concerned about addressing problems and making things right when there is a complaint.
Even more important than online reviews are direct referrals.
In the service industry, existing customers are your bread and butter and you need to make sure they have an amazing experience. Yes, you might get additional business from them for add-on work, but that's not how they are most valuable. According to a Nielsen survey, people are FOUR TIMES more likely to buy when referred by a friend. With 65% of new business coming from referrals, no other marketing channel is going to perform as well as having happy customers tell their friends how great you are. Unfortunately, you can't assume that customers who have had an exceptional experience are going to remember to make a referral. In a study by Texas Tech, only 29% of customers end up making a referral… even though 83% of customers would be willing to do so.
Here's what this looks like in the real world:
Friend: "I need to get some work done on my bathroom Didn't you have someone do yours earlier this year?"

Customer: "Yeah, my contractor was great."

Friend: "Great, who was it? I'll give them a call."

Customer: Blank Stare
We all want to think that when we do great work, our customers will have our name at the tip of their tongue. The reality is that everyone's life is just as busy as yours and no matter how wonderful a job you've done, most people aren't going to remember.
Fortunately, there are ways you can combat this problem. Start by keeping in touch with your customers after you've served them. A great way to spark referrals is to give your customer a leave behind they'll use and keep handy. How about a refrigerator magnet that has this year's calendar for your NFL team or measurement conversions for cooking? Giving away something that's useful beyond just having your customer get in touch with you keeps you and your services at the front of your customer's mind.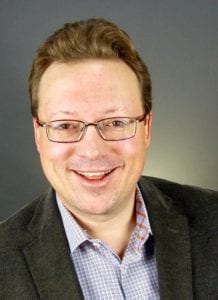 Steve Raines Co-founder, COO at Field Nimble
For over 20 years, Steve been passionate about putting the right people in the right seats and giving them the tools to make amazing things, profitably. Steve is the co-founder of Algonquin, SWRemote, and VCAMP. He loves bringing his experience in residential home services, professional services, SaaS, and mobile to bear with humility for successes and a hard, honest look at failure. Steve is an active angel investor and spends time working with and mentoring young entrepreneurs.