Painting a metal building improves aesthetics but, more importantly, it also improves its durability and longevity. Metal roofs and exterior panels are known for their strength and resilience, but they're still vulnerable to rust and corrosion via exposure to moisture and environmental contaminants. The right protective coating will yield the long-lasting attributes you're banking on.
When to Repaint a Metal Building
If you've purchased a new metal shed, barn or commercial building, odds are you won't need any type of re-coating or touch up work for years down the road – and possibly even decades. Always refer to the building manufacturer's recommendations for maintaining the building's exterior as well as what to do if you notice signs of flaking, peeling, rust or other indications that repainting is necessary.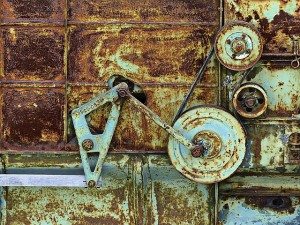 Typically, a building should be repainted if you notice:
Signs of peeling, lifting or flaking.
Patches of rust or corrosion, no matter how small.
The panels look chalky.
The building's color or a sun-exposed side is fading.
A Little More About Rust
Rust is the enemy of a metal building and even the smallest patch warrants serious attention. If there are corroded holes and cracks, use an autobody filler to start. Then proceed with rust removal.
This can be done in several ways:
Sanding or wire brushing. If the patch is on the smaller side, a drill with a wire brush or sanding will do the trick. If sanding, use a 80-grit paper to remove the rust and 120-grit to smooth it. If you use a wire brush, use 120-grit sandpaper afterwards to yield a smooth surface.
Sandblasting. Larger rust issues may require sandblasting, using an air compressor and fine sand.
Chemicals. You can use chemicals to resolve rust issues but this is the least desirable method as it is dangerous and toxic.
Organic rust converters. These are ideal for hard-to-smooth surfaces and use a gel-like organic compound that dissolves the rust completely and then acts like a rust-protective film. The downside is that they can leave brush-like or "ropey" streaks, which aren't always desirable on smooth surfaces.
Steps For Repainting or Recoating A Metal Building
Proper product selection and surface preparation is key to the success. Always refer to the manufacturer's recommendations and warnings before commencing your project.
Surface preparation. The first step is to prepare the building's surface. The large majority of paint failures are due to improper surface preparation, thus your surface must be free from dirt, debris, chalk or rust. Smaller buildings can be washed with warm, soapy water and a brush with an extended handle. Larger buildings will probably require the use of a pressure washer. Be safe when using ladders, scaffolding or other means of accessing upper-walls and roofing surfaces.Make sure there is no remaining chalky residue. If you wipe your hand across the surface and chalk is visible on your palm, continue washing until your hand comes away clean. Loose, flaky or rusty coatings may need to be scraped and/or sanded smooth. If mold or mildew is present, use a 1:3 bleach-water ratio.
Use pressure washers cautiously. There is no need to hyper-blast the building's surfaces. Instead, use a setting of about 2500 psi or slightly more if necessary. For heavy chalking or dirt residue, you can use a mild household detergent. Make sure the detergent or cleaning agent is rinsed completely and then allow the surface to dry, which may require a day or two.
Protect doors and windows. Like any other painting project, protect surfaces that aren't being painted by taping plastic sheeting to prevent the paint from landing where it's not wanted.
Time to paint.Use a paint sprayer (recommended for larger projects) or a paint roller. First, apply the primer – working from the top of the siding or roofing panel, moving your way down from one side to the other.
—Primer. Primers are recommended where severe chalking or oxidation is present. In these cases, you may want to use two coats of primer. If not, use your discretion to decide whether or not one or no coats of primer are needed. You should use a solvent-thinned primer acceptable for metal buildings. If there are any bare spots as the result of extreme weathering or rust repair, they should be spot primed with a rust-inhibitive primer.
—Paint. Once the last coat of primer is completely dry, clean the paint sprayer according to the directions and then continue in the same manner using an appropriate acrylic-latex paint for metal buildings. Acrylic latex, weather tough, semi-gloss top coats are recommended for metal buildings, two coats being the ideal.
Be careful on the roof. Most metal roofing products are tough, which means you can walk on them without worrying about dents, creases, or other forms of permanent damage.
Author Bio:
Steve Wright works for Whirlwind Steel Buildings. Whirlwind Steel metal buildings and components are designed and manufactured to meet the highest quality standards. Visit www.whirlwindsteel.com to learn more.