There is no doubt, the world is changing. In some categories, the paint world hasn't kept up. Critical skill and knowledge standards that painters need have not evolved into reliable digital form.
There are plenty of marketing, estimating and sales resources, but online paint training options for crews in the field remains behind. Paint contractors can sell beyond their ability to deliver. That is a problem – a training problem.
If you hire the right people, they really can learn and train using online resources. It just hasn't been done correctly yet…
Interactive and Social Paint Training
Paint contractors search online for the quickest answers to most problems, including this one. And that can send you deep down a rabbit hole of mixed search results. Google doesn't always put the best in front of you, especially when there is no real "best" to be had.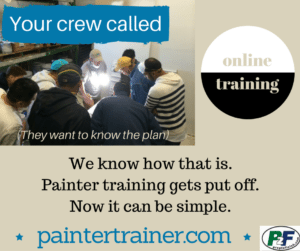 Social media as an educational platform falls short in functionality. Almost as soon as something is said or posted, it is buried in a sea of clutter. That applies to Facebook, with popular "live" video and good posts that you'll never see again. Twitter never educated anyone. And Youtube has almost become a victim of its own hugeness. Although it is one of the most used "search engines". Video is what people prefer, over reading or other methods of learning.
That said, we are seeing a rebirth of the good old fashioned website as a learning tool. Yes, you remember actual sites – destinations that archive critical information that people need. By way of example, Blogging Painters is exactly that, a reliable site where you know you can find news and information. And now, that site-based principle is available in the area of paint training.
Education doesn't happen without action. Watching videos without doing something (to learn) is mostly passive & entertaining. #painttraining

— Prep to Finish (@PreptoFinish) December 26, 2016
How is a Focused Online Paint Training Center Possible?
This one hits close to home. Blogging Painters assists and partners with many segments of the paint industry, including some high profile "sister" sites powered by BP founder Chris Haught's Partner's in Sites web networking platform. The long standing tool junkie site, Topcoat Review is a popular example. As is the online home of paint industry education pioneer, Prep to Finish.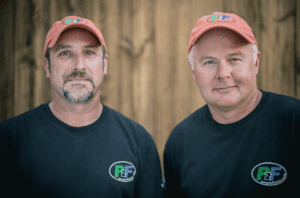 The latest educational resource to hatch out of this collaborative group is a new Online Training Center for painters – paintertrainer.com.
This digital division of Prep to Finish distills the essence of highly successful P2F 'hands-on' active learning methods into a gated online community where professional painters can learn without the confusion and distraction of surfing online for good information.
If there is a paint industry education entity that could figure out how to bring "learning by doing" to a video based online venue, it would be paint trainers and educators, Scott Burt and Todd Pudvar who are noted for their curriculum development abilities. And if there was an online creator that could twist the nuts and bolts to make an interactive training site simple for painters, it would be Chris Haught.
What is unique about the paintertrainer.com Online Training Center is that, for the first time, painters will be able to learn on an easy to use site that is video based, with downloadable materials, real skill building assignments, accountability and implementation support daily from the trainers. It is designed to speed learning curves and will set standards for job completion, efficiency and profits by making processes consistent and predictable for companies.
We may be biased, ok, we definitely are. We built it. The Online Training Center for painters is a solution that allows you to use outsourced paint training talent in an "in-house" manner. We can only say that because we built it. And we built it because it was needed.
The first class starts on January 9, and registration is now open on a first come first served basis.
Check out the first class by pressing here.
If you have questions or feedback about this new resource, please talk to us right down below in the comments.