My son, the inventor, by Bonnie Goldberg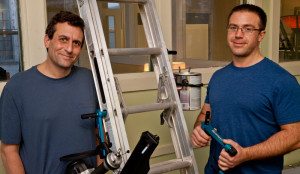 Mothers often brag about their offspring, as in "my son, the doctor" competing with "my son, the lawyer." Now I get to brag about Adam Goldberg, "my son, the entrepreneur" and his best friend and business partner Kay Saucier, the inventor.
The saying goes that "necessity is the mother of invention" and in Kay's case that specific moment was when he was high on a ladder doing construction work for his company Choice Design and Remodeling and dropped and broke a $600 trim nail finish gun. After he finished a manly bout of swearing, that exciting light bulb went off as he decided he needed to find a tool to hold his expensive equipment while perched on high.
Searching online, he discovered, unhappily, that such a ladder attachment didn't exist. The answer then became clear: invent one himself. His reasoning was simple. Anyone who works on a ladder, for a living or as an occasional hobbyist or chore completer, needs an extra pair of hands, similar to an octopus…and no one wants to drop a tool, $600 or $60, from their work station. Also the sobering thought is that thousands of accidents and even deaths occur from ladder accidents and falling tools every year.
The Hangman was born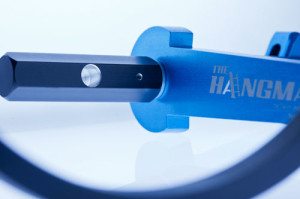 Hence, The Hangman was born, to mount on the rung of a ladder, on either or both sides, to hold tools in place and free hands to complete the work safely and efficiently. Over many reincarnations, the basic design has stayed the same as modifications have been made. Kay built the first one with his dad in a garage, not unlike the many garages that gave birth to computer geniuses like Steve Jobs and Steve Wozniak with Apple and Hewlett and Packard as well as Jeff Bazos with amazon.com. At first it was composed of a guitar stand and an adaptable flagpole holder, with miscellaneous pieces of wood and aluminum. Kay and his dad walked through many a hardware store over several months searching for improvement ideas, but that first prototype wasn't strong enough and had too many components.
The next step was to start the patent process which is both lengthy and expensive, to be sure that there was nothing else like it in the marketplace. Once that was established, Kay contacted a company, Invent Home, that he found online to help him with his novel and inventive idea. A waiting game ensued, hoping for a "magic person", a fairy godfather if you will, to come along and take up the cause.
Enter my son, Adam, who though not the skilled fix-it man, nonetheless recognized The Hangman as a unique, useful and essential addition to anyone's tool box. A working partnership was forged as the two men determined to take the project up a notch to the next step.
A trip to a local college's engineering department was an expensive and frustrating misstep, when what they hoped would be a home run turned into three strikes out at home plate. The over-engineered result "could have held a Volkswagen" instead of the tool they wanted to work for up to 35 pounds.
Soon after they took to the road and located a Seymour office park, that focused on manufacturing, to knock on doors. The first stop, a steel metal company, steered them to what would be the wizard and magician and fairy godfather they needed, all wrapped into one company: JV Precision Machine Company. A very successful family run operation since 1975, the second generation, brothers Josef and Andrew Visinski, with their prowess in manufacturing, have motivated Kay and Adam in all the right directions.
Shepherding their progress, the brothers tooled the first real aluminum model, perfected it, worked on additional pieces to complement it, like a paint can ring, and have signed on as partners in the process. Incredibly generous with their time and talents, they have shared their years of expertise to guide the budding businessmen along the straight path. According to the Visinskis, "Precision tools are our trademark work and we are proud The Hangman will be the newest product we offer."
Another incredible coup was Adam and Kay's venture with SCORE, Southern Connecticut Organization of Retired Executives, a non-profit group of volunteers who offer business help for new businesses. They hit another jackpot with their initial contact with Wes Thompson of Sandy Hook, who had decades of experience at I.B.M. and also at running his own company. As a mentor and adviser, Thompson has been invaluable in guiding and advising for major and minor decisions. Adam and Kay consider Wes "awesome."
Wes remembers the day Adam and Kay first appeared at SCORE, May 7th, 2013 in Newtown to discuss their new business venture.
Adam and Kay were already successful business owners but they were looking for advice. Kay had invented a new product that they wanted to manufacture and sell as partners. Their original question was how to get market research data that would allow them to forecast potential sales. That initial meeting grew into a long term and close advisory relationship with me that still continues today. We routinely talk by phone, meet in person, and exchange email on any topic that involves managing and operating a business. We are business friends who share ideas, opinions and develop action plans. I feel like I am part of their business team. I celebrate their success and value them as colleagues and friends.

SCORE is a nationwide non-profit volunteer organization dedicated to helping small businesses, both new and existing. Some clients are early stage entrepreneurs who are defining their ideas, building their plans or obtaining financing. Others are established businesses that are seeking to grow or have challenges and need someone to discuss options. Some are seeking to buy, sell or merge with another business. SCORE has been providing advise for nearly fifty years as a resource partner of the U. S. Small Business Administration (SBA) and has a network of approximately 11,000 volunteers at 340 offices that deliver services at no charge. Adam and Kay are just one of the burgeoning concerns that we have helped."
 A new company is created
With the trademark The Hangman, the next step was to create a company name. Kay went on Google and typed in Hangman and then proceeded to check every language looking for a name. Finally, at the end of the alphabet, at "Y" for Yiddish, he found the "cool, foreign and unique spelling" he was seeking: thus Talyn Industries, LLC was born.
The next problem to resolve was the packaging of The Hangman and Adam and Kay were fortunate to contact William Ledewitz of New Haven, a gentleman who has spent his life's work designing boxes for everything from toothpaste to board games. Bill generously gave them advice gleaned from his decades of work in the packaging field.
Now armed with a company name, it was time to hire a media consultant. Once again, online, Adam searched for a video production company and hooked up with the husband and wife team of Eric and Kristen Pontbriand of Media InFocus of Plymouth, CT. Liking them right away, Adam and Kay have enjoyed their "dedication to progress" as they have worked on creating a website, a video, designing logos and business cards, and creating a booth at a pair of upcoming trade shows.
The Hangman will be officially unveiled in March, 2014 at the Journal of Light Construction in Providence, Rhode Island and in May at the National Hardware Show in Las Vegas, Nevada.
How you can help them
You can encourage these exciting entrepreneurs/inventors by investigating their innovative new product: The Hangman. Like them on Facebook, watch their production video on YouTube or their website or make a pledge on KICKSTARTER.

Make your next trip up a ladder safer and more productive. Let The Hangman guarantee you won't drop an expensive tool or hurt yourself, thanks to my son Adam, the entrepreneur and his good friend, Kay, the inventor.
Editors Note: The Kickstarter campaign was a success and  Talyn is producing! Way to go guys!