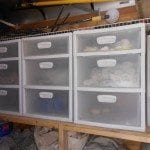 Painters have "stuff"
As we are heading full force into the exterior season I am sure there are guys (like my husband Rob) who are digging thru toolboxes and finding tools in all sorts of buckets and places they don't belong! Some guys have a pretty good system of organizing their tools, like Scott showed us here.  Having multiple vehicles, job sites and painters makes it harder to keep everyone equipped. I hate it when small hand tools get purchased because, "I couldn't find my nail punch, it was only a couple of dollars", especially when I know there are 6 on top of the washing machine! Arghh!
More "stuff"
When Rob and I were at the PDCA Expo earlier this year we saw several new tools and gadgets, we have yet to try any of them. Some look promising, some not so much! I thought I'd share some of the items to see what our readers think, I may even give some away to a random commenter
You can also share and comment on our Google + gallery by clicking here!
So tell us, what is in your toolbox, leave a comment!