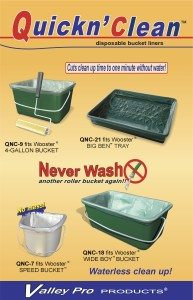 Tired of cleaning your buckets out? Try these bucket liners from Valley Pro Products. Let us know what you think by leaving a review here.
For more information, visit Valley Pro Products here.
Jury still out
★★★☆☆
"
We were able to try the liners for the Big Ben Tray and the Wide Boy Bucket. We had one of each to use. It was a little difficult getting the liner into place for both (I am sure this would get easier with more use and experience with the product). They were very tight around the top lip of the tray/bucket and we didn\\\'t want to rip the liners since we only had one of each to try. Once we had the liners in place, we were a little disappointed with the fit and the roller nap seemed to slide on the plastic when loading. \r\n\r\nWhen it came time to clean out the tray and bucket, the liners definitely worked well. It was super easy to pull out the liner, cut a hole in it for the remaining paint to go back into the paint can and throw out the liner. It saved a lot of time/effort. \r\n\r\nWe would definitely have to try these more times than once to get a good feel for them. I feel we may not have had the best fit since it was our first time installing them on a tray or bucket, thus the issue of the roller nap slipping might not be a real issue. We use and reuse the rigid plastic liners for our 9\\\" deep well trays multiple times, so the cost per use with them is probably pennies or a nickel per use. These Quickn\\\' Clean liners only give one use, so the cost per use is much higher. Ultimately they do save time, so our use would probably be based on the type of job we were on.
"
After Further Review
★★★★★
"
We had the opportunity to try the Quickn\\\'Clean liners multiple times (rather then only once with are previous review). We find it takes our company multiple uses of a new product in order to get comfortable with it and have it become normal everyday use. It does take time and effort to form a new habit and we are very glad we gave these liners a second look. We now use them everyday!
"
-
Mike Kremsreiter - DBK Painting, LLC
4

out of

5

based on

2

reviews.
Overall rating: